The Next Big Innovation in Renewable Energy Won't Be Technological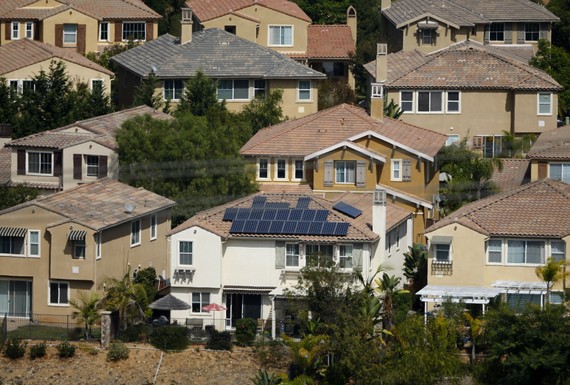 Silicon Valley solar company SolarCity last week quietly did something that could revolutionize renewable energy in the United States. No, the company did not invent a radically more efficient or cheaper photovoltaic panel. Rather, it announced it plans to sell $54 million in asset-backed securities.
And that is a very big deal, even if the dollar amount of the notes on offer is rather small. That's because the assets backing the securities are leases for some of the rooftop solar systems it has installed on homes across the country. Hundreds of millions of dollars in solar leases have been signed in the U.S. in recent years. If those leases can be bundled and sold to pension funds and other investors, "solar securitization" could open up a potentially huge new pool of capital that could be tapped to finance the expansion of renewable energy as federal and state tax breaks for renewable energy begin to expire. For homeowners and businesses, solar securitization could translate into cheaper electricity. A SolarCity spokesman declined to comment on the securities offering.
Much of the innovation responsible for the solar industry's explosive growth has been financial rather than technological. Half the U.S.'s solar capacity, for instance, was installed just in 2012. Driving those sales was the ability of homeowners to avoid the five-figure cost of a photovoltaic system by leasing it for a monthly payment that often is lower than what they'd pay their local utility. Anywhere between 75 and 90 percent of all solar systems are now leased as a result.
That's a lot of demand sitting around waiting to be monetized. After all, Wall Street for years has packaged leases for planes, trains and automobiles and sold them to investors. The risk is considered manageable as rating agencies like Standard & Poor's evaluate the credit-worthiness of such investments can rely on decades of data on the value of those rolling assets as well as the credit scores of people who sign the leases.
Solar panels, on the other hand, are a relatively new technology and have only become a mass market over the past few years. Then there's the specter of the subprime mortgage debacle that crashed the global economy when the value of both the homes securing mortgage-backed securities and the credit-worthiness of the homeowners proved an illusion.
The risks of subprime solar is probably low. Solar installers like SolarCity, Sungevity, and SunRun only sign leases with customers with high credit scores. And most homeowners are likely to continue paying their electricity bill even if they can't make their car payment.
The big unknown, however, is the long-term performance of solar panels. Manufacturers typically offer 20-year or more warranties. But as I wrote earlier this year in The New York Times, the extreme financial pressures faced by Chinese solar industry, which supplies most of the world's photovoltaic panels, has led to cost-cutting and growing incidents of defective solar modules. Whether that is a short-term blip or indicative of a more long-term problem won't be known for years. (SolarCity chief executive Lyndon Rive, however, told me his company has not experienced any issues with its Chinese-made panels.)
That makes Big Data companies like kWh Analytics crucial for the success of solar securitization. The Oakland, California, startup analyzes the real-time performance of some 10,000 solar systems—including 3 million photovoltaic modules—to help investors evaluate the risk of putting money into solar assets.
The U.S. Department of Energy recently awarded kWh $450,000. Richard Matsui, kWh's chief executive, told The Atlantic that his company will use that money to build out a comprehensive database similar to one assembled to analyze home mortgages by a company called CoreLogic.
"Today's solar investors are flying blind, accepting unknown risks in exchange for the promise of financial returns," Matsui said in a statement. "Understanding risk is essential to making investments, but is difficult without aggregated data on panel quality, inverter reliability, and customer default rates."