The Lament of the Working Parent
I won't always be there. But then again, neither will my son.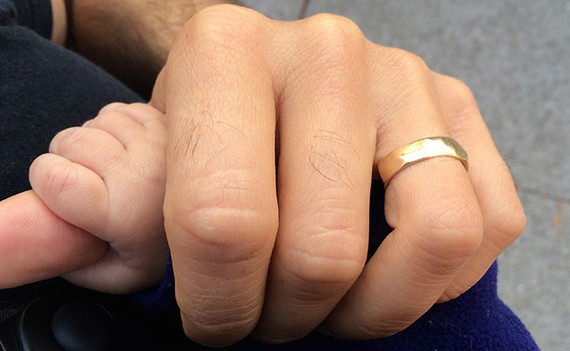 I missed my first baby thing yesterday, on my second day back to work. It wasn't a big thing: he reached out, unfurled his hand, and grabbed an owl toy with a tinkling bell hidden inside. But it was something, an assertion of agency beyond a smile for like and a cry for dislike.
Then, when work was done, and I began my caretaking shift, he cried as my wife returned him to my arms. Had I lost it? Parenting is a confidence job perpetrated on the self. One cannot lose one's nerve. My connection to my son, earned over the endless hours of two months, dropped in a day.
But mercifully, his crying stopped as I bounced, and my anxiety waned.
I remain a little melancholy. This milestone is the first of many I won't see.  I've gotta work. And work is time away from the kid, even if I have the privilege of mostly laboring from home at a job I love.
I know that what really matters isn't seeing the first steps or hearing the first words but being there for the walking and talking a million times over through all the years.
And I know I can't be a completist about his life. His independent personhood is total. But for a while it was nice to pretend that I could experience life right by his side. For me, if not for him.
As I walked him in his stroller in the still warm air of the early evening, western sun slanted though rooftops to light the tips of trees transforming for winter. Leaves fell around us. He was asleep, of course.
There's so much of life that no one remembers. We're the sum of so many ghostly parts.