The Absurd Beauty of Creating Musical Turnstiles in NYC's Subway
LCD Soundsystem's James Murphy has a plan to give New Yorkers "one little gift of kindness."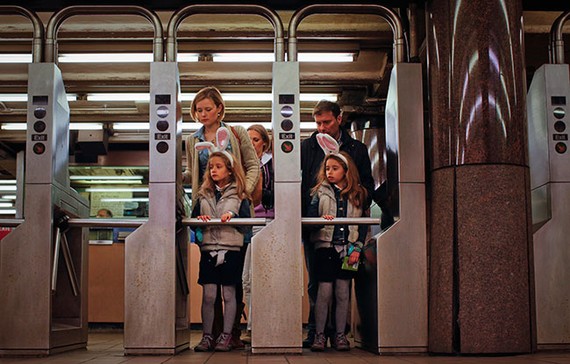 There are so many good subway sounds: the whoosh and clatter of a train approaching, the click of a turnstile, armies of boots on cement echoing through strange, low-ceilinged corridors, people playing love songs that the rats know by heart. The living and non-living make a racket that occasionally coalesces into noise with shape, noise with rhythm: the song of the city's bowels.
It's all an accident, though, beauty sparking in the aural exhaust of the soundscape.
But what if subway stations took themselves seriously as locations not for transport, but musical creation?
This is the dream of James Murphy, the man behind one of the great bands of the last decade, LCD Soundsystem. He wants to compose for the city's infrastructure, write music for the lines running up and downtown, music that would be enacted by the passengers on America's greatest public transport system.
He described the dream in a WBEZ's Sound Opinions clip posted yesterday.
I've been fighting for now 14 years to try to do this, to make all the subway turnstiles make music. I want to make every station in New York have a different set of dominant keys, so that people when they grow up, later on in life, will hear a piece of music and be like, "Oh that's Union Square."

So when you go through the turnstiles, there would be a thing that would make a beep of a certain note. And it would have a random note generator that would be based on a percentage, so that the root note would be a higher percentage of going off, then the third, then the fifth. And during rush hour in the bigger stations, it would hopefully make a really beautiful piece of music.

Each line would be a piece. The green line would go through different chords and when they intersected with other lines that would change that station.

I was really hoping. I thought Bloomberg would give me a hand. But it's really hard to get through to them. I also think it's such a weird project. Is it the Transit Authority? Is it the city? 

It's such a brutal city, and I love it, but one little gift of kindness would be really nice. 
What a beautiful thought. We do this now so that today's children remember something wonderful tomorrow. Where is that spirit in our world? Why doesn't it inform more of what we do?
But yes. Of course you're right. Things could go awry.
The MTA workers might hate hearing the same notes day after day after day.
The machines could break down, bleeting off-key.
Pitched political battles might be fought over what notes and chords belong in which underground cavern.
The regular commuters at a peripheral station might wonder why they got stuck with F sharp minor, which Christian Schubart described in his 1806 work on the emotion of keys as "A gloomy key: it tugs at passion as a dog biting a dress. Resentment and discontent are its language." Who gets B-flat minor: "A quaint creature, often dressed in the garment of night. It is somewhat surly and very seldom takes on a pleasant countenance. Mocking God and the world; discontented with itself and with everything; preparation for suicide sounds in this key." Or E flat major: "The key of love, of devotion, of intimate conversation with God." How honest could the music really be?
The broken-up-with might have to avoid whole swaths of the city's public transportation system lest the chords of lost love send the day into a fury of sadness. A personal opera, the city the stage.
But even these things might be part of the gift.
How sweet to argue about music. How nice to think about chords.