That Time a Times Columnist Found Courtney Love's Lost iPhone in a Cab
... And then returned it to her. Because Twitter.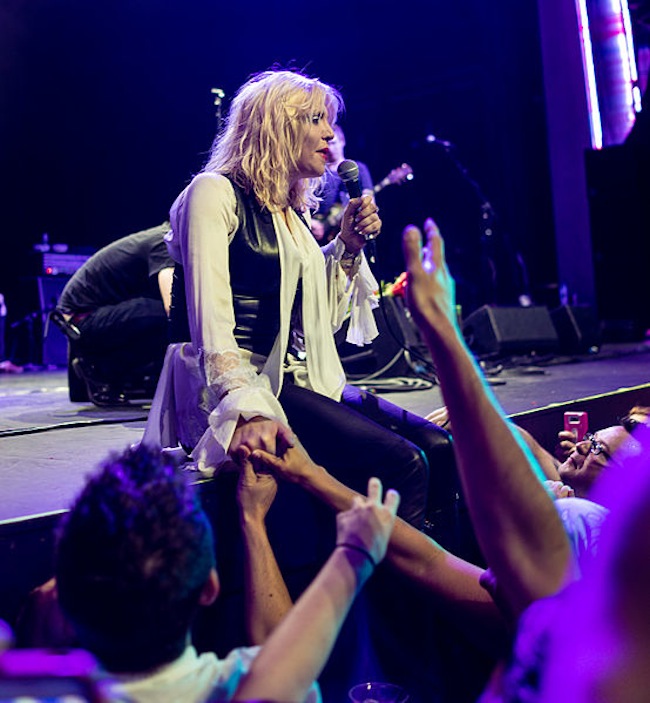 It started, as so many things do these days, with a lost phone. A nice young lady named Courtney was traveling in a New York City cab. Upon leaving the cab, however, she left—as so many people do these days—her iPhone behind.
Usually, young Courtney's story would have a sad ending: the phone found, its precious contents wiped clean, its skeletal hardware sold on the black market to the highest bidder.
But this story is not sad. This story is awesome. Because after Courtney left the cab, and her phone along with it, the vehicle was hailed by a guy named Frank. Frank found Courtney's phone. He examined it, trying to determine who its owner might be. And after some investigation—phones, after all, containing much of our personal data—he came to a wondrous conclusion: The phone in question belonged to Courtney Love. Yes. That Courtney Love.
Oh, and the Frank in question? That would be Frank Bruni, op-ed columnist for The New York Times. Because New York.
So, say you're Frank Bruni, gentleman and Timesman, suddenly in possession of Courtney Love's iPhone. What do you do then? How do you, you high-profile Good Samaritan, make sure that Courtney Love's lost iPhone is returned to her?
You tweet, obviously.
Weird: the iPhone left in my yellow cab last night clearly belongs to @courtney (Courtney Love). Trying to return. Anyone? Courtney?

— Frank Bruni (@FrankBruni) November 21, 2013
You also get your researcher to help you figure out the phone's provenance.
You also get in touch with Courtney's manager.
You also get in touch with Courtney (@courtney) herself.
@Courtney Hi there. Just spoke with your manager, someone's en route to get your phone. Will DMS this to you as well.

— Frank Bruni (@FrankBruni) November 21, 2013
And then! You are rewarded for your Internet-aided heroics.
We are all rewarded for your Internet-aided heroics.