Oh Dear—It's Now Possible to Make a Grenade in an Airport Terminal
And a blunderbuss from a hair dryer and a can of Red Bull.
Updated, 1 p.m.
On Wednesday, hundreds of thousands of Americans will wait in line at a TSA security check. They'll unbuckle their belts, take off their shoes, and get electromagnetically scanned, all so that flying might be a little safer.
But we now know there's an entire range of weapons the TSA won't catch.
We know because Evan Booth, a security researcher based in North Carolina, has demonstrated how to make a grenade out of items found in an airport terminal—in other words, out of items on the other side of the security area. With only cash and a small multitool, a grenade can be assembled in fewer than 10 minutes.
All that's needed? A stainless steel coffee mug, a AA battery, a condom, a bottle of water—and 1 ounce of Axe body spray. (So now there's another reason why Axe is terrible.)
This video shows how Booth does it. It gets going at the 0:45 mark—and the detonation's at 3:05. (The video has since been removed by YouTube. But check out the two links below—as of 1 p.m. Wednesday, both videos still worked.)
Booth has also made nun-chuks out of magazines and fridge magnets: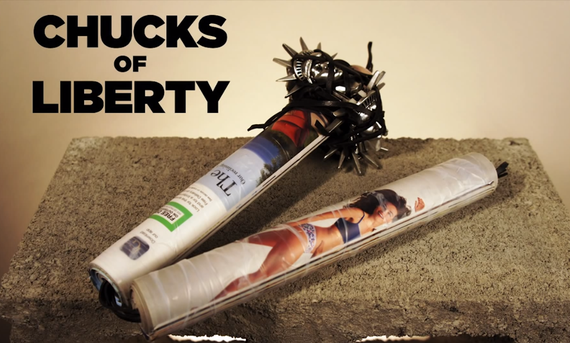 And a "blunderbuss" out of a hair dryer and a can of Red Bull: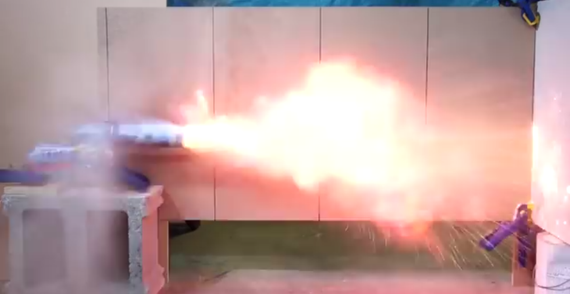 On his website, Booth writes that he has reported his findings to the Department of Homeland Security. While he realizes that publicizing his hacks might let the ill-intentioned copy them, he hopes that increasing awareness will lead to "better, more appropriate airport security."
But Booth's project illustrates the larger challenge of any security program. As the novelist William Gibson has written, "the street finds its own uses for things."