Maybe It's a Bad Idea to Resolve Arguments by Texting, Says Science
But sending "I love you" makes you feel good.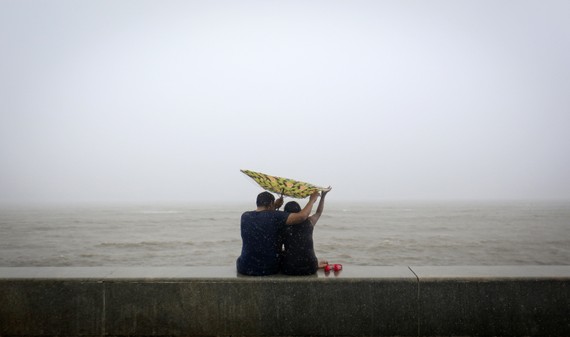 If your relationship involves a lot of texting, it may not be the happiest of unions.
That's the most significant finding of a study published this week on how serious couples use digital technology to communicate. Conducted by researchers at Brigham Young University, the study found that when men text their female partner frequently, they also find the relationship to be of lower quality.
The setting of the study, though, is a little weird, and not just in a "Western, educated, industrialized, rich, and democratic" sense (although the study's authors explicitly concede that the subjects were overwhelmingly white and highly educated). The study sampled a small group—only 276 18- to 25-year-olds—and of those sampled, this being a Brigham Young study, about a third were Mormon. According to the Pew, only 1.7 percent of Americans identify as Mormon. Likewise, 62 percent of the sampled couples were engaged or married; According to 2012 U.S. Census data, 85.3 percent of 20- to 24-year-old Americans have never been married. Finally, all of the couples sampled for the study were male-female.
Now, the study doesn't claim to be representative, nor does it claim to be causal. And some of its findings were helpful or cheerful. It found that when one partner sends another an affectionate text message, both people feel good about their relationship, but the sender can feel better. The study also found that couples are much more likely to keep up with one another via text than social networks. Over 80 percent of those surveyed said they sent more than one text a day to their partner.
It also—stunningly—found that trying to resolve arguments via text was associated with unhappier relationships.
One of the authors, Jonathan Sandberg, wondered if that was partly because texting conveys less information than a face-to-face conversation.
"Reaction to disappointment and reality testing occur more quickly face to face," he said in a release. "There is a narrowness with texting, and you don't get to see the breadth of a person that you need to see."
And ultimately, this paper wasn't written to satisfy the curious zeitgeist at all, but for a class of professionals: It was published in the Journal of Couple and Relationship Therapy. It's written for therapists, in other words, and its final conclusion is sound:
These findings suggest that it is worthwhile for clinicians to assess for types of technology communication in romantic relationships.