Man Decorates House With 502,165 Holiday Lights, Shatters World Record
And, boy, is the Gay family of LaGrangeville, New York gonna be pissed.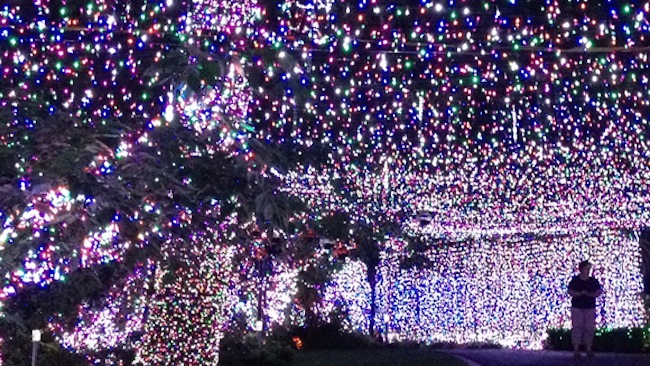 More than 29 miles of wire. More than 500,000 lights. More than 70,000 visitors. Move over, Clark Griswold: You have nothing on David Richards, the Australian lawyer who has just broken the Guinness World Record for the most number of Christmas lights used to decorate a single home. (And also, presumably, the record for the world's most extreme energy-usage spike, and for the most hours spent wearing sunglasses at night, and for the most enraged neighbors.)
This will actually be the second time that Richards—husband of Janean, father of Aidan, 13, Caitlin, 10, and Madelyn, 6—has been a Guinness luminary (sorry!). In 2001, the Richards family set the then-record for holiday home-lighting with a Griswoldian 331,038 lights. That relatively long-standing record was broken last year, however, by the Gay family of LaGrangeville, New York, who decorated their house with 346,283 lights, many of them synchronized to music.
And then? It was on.
"It was sort of a reason to do it again," Richards told the U.K. paper Metro of his record's Yankee challenge. Plus, "they didn't break it by very much."
So why string 502,165 lights, when 346,284 would have sufficed? Because ambition. Because striving. Because the human condition. And also: "I thought 500,000 was a nice, round number, so I decided to go all-out because I may never do it again."
So how long does it take a suburban dad and his family to create the mother of all retinal displays? A long time, actually. "I took a week off in the October school holidays," Richards tells Metro, "and then have worked every weekend since."
There are other costs, too. Richards estimates that his electricity bill will be an extra £1,400—that's more than $2,200 in U.S. dollars—a month once the lights are officially turned on for the holiday season. Not to worry, though! News of the Richards family's exploits has spread, and the energy company ActewAGL is covering the cost of the lighting. As part of, yep, its green energy program.
So how do neighbors near and far feel about Richards' foray into electric history? There are some fans: Several thousands of people, so far, have flocked to the Richards home to see the eye-busting sight for themselves. And Richards is using the spectacle to raise money for charity from the visitors. Which: great. Less great, though? Actually living next to said spectacle. While Richards says that "most of his neighbors supported the display," he also acknowledges the dark side of record-breaking light: Some of those neighbors, he says, haven't spoken to him since the last record was set.