If the Suspected Google Barge Turns Out to Be a Store, Who Won't Be Disappointed?
Where's that sad trombone sound when you need it?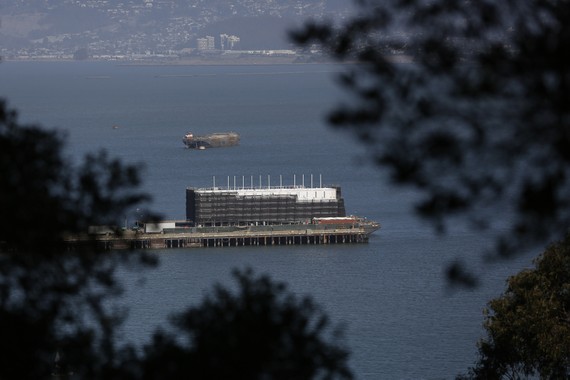 If you haven't been following the story, there are two very unusual barges sitting in the waters near San Francisco and Portland, Maine. They are the foundations for future shipping-container-constructed buildings. And Google is very likely behind at least the San Francisco ship, we know thanks to the expert sleuthing of CNET's Daniel Terdiman.
Since last week, when Terdiman broke the story, people have been guessing at what it might be. A floating data center, perhaps? Google does have a patent or such a thing. And this is Google we're talking about, so it was possible to let the imagination run wild. They could be doing anything out there! Perhaps it was a jetpack launching facility. Or they'd erect a biodome and resurrect wooly mammoths! At the very least, it seemed a fitting lair for co-founder Sergey Brin. He could finally parasail to work easily.
But then today, the local San Francisco CBS affiliate reports that the barge will serve as a lux retail store to "market Google Glass and other gadgets to invitation-only clients."
Where's that sad trombone sound when you need it?
Oh, here it is:
This is the new Google, I guess.
Not that retail stores can't be nice. Nice. I enjoy shopping at Apple, I guess.
I used to think Google was different. But the giant retail barges symbolize how Google's considerable ambitions have become ever more tightly lashed to its commercial concerns.