'I Told Alan His Pants Don't Fit': This Couple Posts All Their Fights to Twitter
The conventional wisdom of coupledom holds that intimacy equals privacy. Claire and Alan are reversing it.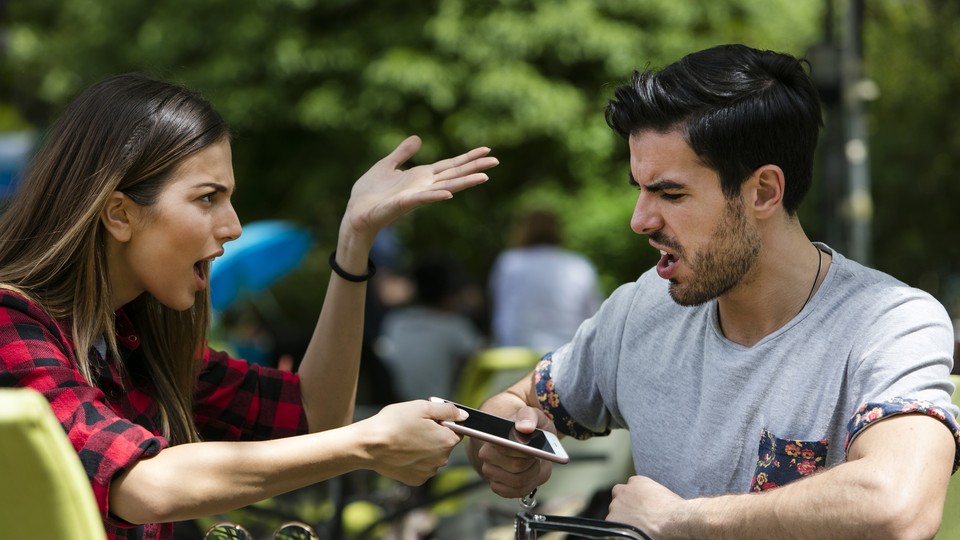 There's the funny:
There's the vaguely mysterious:
There's the fully curiosity-inducing:
There's the ridiculous:
There's the self-referential:
There's the slightly worrisome:
And there's the you-can-definitely-see-why-this-turned-into-a-fight:
Ultimately, though, there's a record. (A very well-written record: Claire and Alan met, New York's Maggie Lange notes, through the Chicago comedy scene.) Fights, in real life, are inevitable (maybe especially so for Claire and Alan—who are, they tell Lange, both "passionate" and "sensitive," which may help explain how a fight could be triggered by transitional lenses). The romance-industrial complex, however, tends to teach the contrary: that fights are exceptional. That they represent, somehow, rupture rather than regularity. But the documentation of disagreements—disagreements that are often silly, but disagreements that, more to the point, are often routine—brings a certain kind of freedom. To Claire and Alan and, maybe even more significantly, to the people who read their tweets.
"We thought our fights were just ridiculous and way too bizarre and that's why we started it," Claire told Lange. On the contrary, though, "we kept hearing the same feedback of, 'This is exactly what we go through.'" The couple's publication of their idiosyncracies has ended up emphasizing their universality. "It actually," Claire says, "has made me feel like more of a sane girlfriend."
---