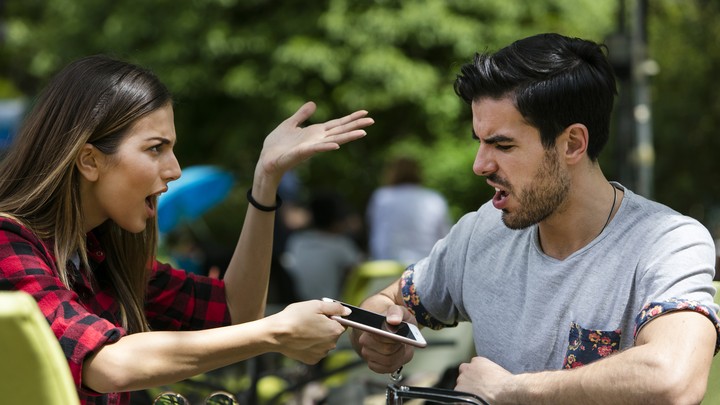 Let's talk, for a second, about Sex and the City. If you're not familiar with the show, all you really need to know about it is this: It featured a central character who was a sex columnist. Her name was Carrie. She had three good friends, who were named Samantha, Miranda, and Charlotte. The show featured another recurring character, too, an on-again-off-again boyfriend who was the frequent subject of Carrie's columns. He did not have a name. He went, instead, by a pseudonym: "Mr. Big." This was meant to protect his privacy.
And that was, in turn, because even Carrie, the sex columnist—even Carrie, whose job was to analyze and publicize her relationships—recognized the sanctity of romantic intimacy. What happens between a couple, sex-wise and otherwise, should stay between a couple. The conversations, the fights, the daily doings of romance … these are private things. Confidence must be maintained, in every sense.
That approach is practical and, often, romantic. It can also be, however, hazardous. It means that relationships are opaque by default, and that participants in those relationships, consequently, can lack meaningful models for navigating them. Which means in turn that schlocky rom-coms (happy 10th birthday, Love Actually!) and pun-happy TV shows (hi again, Sex and the City!) keep, and hold, our attention not just because of what they are, but because of what they teach. They give us ambient insights into what other couples experience, how other pairings do things. They model romance for us in ways that tradition and cultural convention tend to preclude.
I mention all that because of Twitter—and, more specifically, because of Claire and Alan. Unlike Carrie and Big, Claire and Alan are real people. They live in Chicago. They met eight months ago. They've been living together since the end of September. They have been fighting for approximately the same amount of time. But they've also been doing something that has turned the conventional wisdom of coupledom—intimacy equals privacy—on its head: They've been publicizing their fights ... on Twitter. Their joint account, @WeFoughtAbout, offers a catalog of argument topics, which range from the petty ("Alan sent me an article that put Prince in a bad light") to the profound ("Claire tried to comfort me and I wouldn't let her") to the Potter ("Claire blamed me for Dumbledore's death.").
The couple has, thus far, documented 79 fights.
There's the funny:
Alan didn't take my "hair journey" slide show seriously.

— We Fought About: (@WeFoughtAbout) November 7, 2013
Alan called me Hair Meyer because of my armpits.

— We Fought About: (@WeFoughtAbout) September 15, 2013
I told Alan that his transitional lenses were a disaster.

— We Fought About: (@WeFoughtAbout) October 1, 2013
There's the vaguely mysterious:
Alan got jealous of a pear.

— We Fought About: (@WeFoughtAbout) October 27, 2013
There's the fully curiosity-inducing:
Alan ruined the Skymall game I made up.

— We Fought About: (@WeFoughtAbout) September 30, 2013
There's the ridiculous:
Yesterday I sent Claire a #snapchat of myself as a panda. I know she opened it and was super patient, but she didn't comment on it at all.

— We Fought About: (@WeFoughtAbout) August 30, 2013
Claire put her hand too close to the garbage disposal.

— We Fought About: (@WeFoughtAbout) November 7, 2013
There's the self-referential:
Claire didn't tell me we were fighting. I had to find out from this Twitter.

— We Fought About: (@WeFoughtAbout) September 1, 2013
There's the slightly worrisome:
Alan went on a lovely sushi dinner on our 8 month-iversary. I was not invited.

— We Fought About: (@WeFoughtAbout) November 2, 2013
I thought Alan was buying bread for another woman.

— We Fought About: (@WeFoughtAbout) October 12, 2013
And there's the you-can-definitely-see-why-this-turned-into-a-fight:
Alan joke-threatened that he might not marry me.

— We Fought About: (@WeFoughtAbout) September 23, 2013
Ultimately, though, there's a record. (A very well-written record: Claire and Alan met, New York's Maggie Lange notes, through the Chicago comedy scene.) Fights, in real life, are inevitable (maybe especially so for Claire and Alan—who are, they tell Lange, both "passionate" and "sensitive," which may help explain how a fight could be triggered by transitional lenses). The romance-industrial complex, however, tends to teach the contrary: that fights are exceptional. That they represent, somehow, rupture rather than regularity. But the documentation of disagreements—disagreements that are often silly, but disagreements that, more to the point, are often routine—brings a certain kind of freedom. To Claire and Alan and, maybe even more significantly, to the people who read their tweets.
"We thought our fights were just ridiculous and way too bizarre and that's why we started it," Claire told Lange. On the contrary, though, "we kept hearing the same feedback of, 'This is exactly what we go through.'" The couple's publication of their idiosyncracies has ended up emphasizing their universality. "It actually," Claire says, "has made me feel like more of a sane girlfriend."
---
We want to hear what you think about this article. Submit a letter to the editor or write to letters@theatlantic.com.
Megan Garber
is a staff writer at
The Atlantic
, where she covers culture.