How the Comet Lost Its Tail
An entrancing lesson in the power of the coronal mass ejection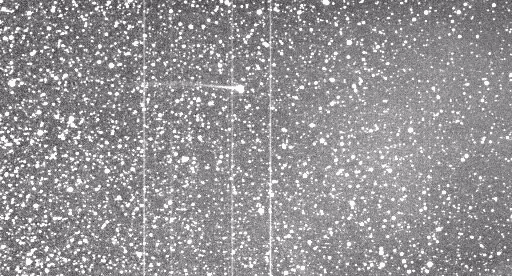 Right now, Comet ISON is streaking towards the sun, and astronomers anticipate it will pass through our star's atmosphere tomorrow.
What they're not-so-secretly hoping is that ISON will meet the same fate as 2007's Comet Encke did: getting blasted by a coronal mass ejection (CME).
"I would absolutely love to see Comet ISON get hit by a big CME," said Karl Battams, an astronomer at the Naval Research Lab, in a NASA story. "It won't hurt the comet, but it would give us a chance to study extreme interactions with the comet's tail."
What kind of interactions? Well, firstly, the CME ripping the comet's tail off.
Take a look at that GIF up there. That's Encke getting hit. The CME comes from the right of the frame like a soft (plasma) mist, but when it reaches the comet: Zoink! There goes the tail.
If ISON gets hit, astronomers aren't sure what will happen. The sun is much more active than it was during Encke's visit, and ISON will be much closer to the star. They are practically giddy about the possibility of seeing a more intense comet-CME collision. As am I.