How Snowden's Email Provider Plans to Build an NSA-Proof Communications Tool
Ladar Levison intends to offer a product with world-class cryptography and a user interface simple enough for a grandmother to master.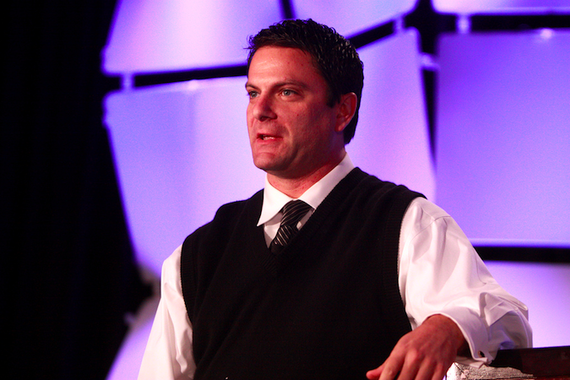 Just a few months ago, Ladar Levison became famous when it was revealed that the secure email service he ran was patronized by NSA whistleblower Edward Snowden. He shut down that company soon afterward because otherwise, the government would've forced him to betray the privacy of his clients without their knowing.
Now he's back, and he has a plan to thwart the surveillance state.
Come 2014, he wants everyone in America to have access to secure, NSA-proof email. Toward that end, he has teamed up with Silent Circle, another recently shuttered email service, "to offer an open-source tool that could make peer-to-peer, end-to-end encryption an easy add-on for any email service," Kashmir Hill explains. They urged industry insiders to support their efforts last week at the InBox Love conference, where more technical detail was offered than I could possibly relate:
They're calling it Dark Mail.
"I think if I had come to you guys two or three years ago and said, hey, it's time to toss out all the mail protocols and replace them with ones that integrate security, all of you would have laughed at me," Levison told industry insiders. "You would have said, you want to throw out how many man hours of work, all for this hypothetical threat that we don't even know exists? Well, I think after the summer of Snowden, hopefully you guys have a slightly different attitude about how important security is and how insecure many of the protocols that we use everyday are."
Now it's fundraising time.
In order to clean up the source code used to power his shuttered email service, Levison is trying to raise roughly $200,000 on Kickstarter. A day in, he's got more than $12,000.
The plan is to release the code to the public in service of an open source approach to Dark Mail. Unable to resume being an email provider until his legal problems with the federal government are resolved, he figured the next best thing was to enable a bunch of companies like his to operate. "What I'm trying to do is transition Lavabit from a services company into a software company, and use the free open source business model of releasing and maintaining the source code but also offering consulting and support services around that," he explained. "For companies that can't necessarily take our reference implementation and drop it into their existing architecture, they can bring somebody from the Lavabit team in and we can support efforts to integrate Dark Mail."
Will the tech community and its email providers embrace this effort? The result could be momentous: these tools could help us reassert our right to privacy, something Fourth Amendment jurisprudence shows no signs of managing to achieve.