How New Yorkers Reacted When a Stranger Slept on Them in the Subway
To sleep, perchance to freak out some fellow commuters ...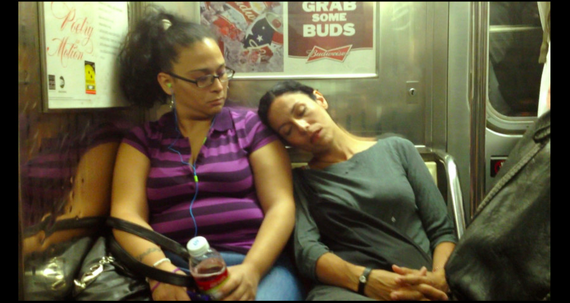 Of the many unspoken codes of public transportation, perhaps the most crucial is this: Keep, as much as possible, to yourself. The ride—on the train, on the subway, on the bus—may be full of
familiar strangers
; politeness and pragmatism, however, tend to emphasize the "stranger" over the familiar. Why interact with other people when you can, for the good of all aboard, ignore them?
But what happens when those mandates gets reversed—when the stranger on the subway becomes, actually, a little too familiar? Since early 2012, the artist and sculptor
George Ferrandi
has been exploring that idea through her project "it felt like i knew you…," a series of time-lapse images that capture what happens when the anonymity of the city commute gets replaced, determinedly, with intimacy.
It goes like this: Ferrandi rides the New York City subway—and "falls asleep" on fellow passengers. Her collaborator Angela Gilland, strategically situated across the aisle, shoots video of the scene that ensues.
The point of this exercise isn't just to capture delightful/revealing stills of personal space invaded (although, awesomely, it does that). It's also to explore what "personal space" means in the first place—especially on public transportation, which not only carves the idea of individualized spaces into its layouts, but which also 
adapts its assumptions about those spaces according to other technologies
. Ferrandi wanted to see what happens, essentially, when one of the most intimate things in the world—sleeping in front of someone else—meets the most public of settings.
Ferrandi sent me a description of the project noting that in it, she is "attempting to mentally and emotionally 're-sculpt' the space between her and the passenger next to her." On top of that,
she is hoping to transform that space from the stiff and guarded barrier between strangers to the soft and yielding space between friends. When she believes that space has shifted, and she completely feels like the stranger sitting next to her is her friend, she rests her head on that person's shoulder and sees what happens. 
What happens is a series of captured reactions from fellow-travelers that range from the annoyed to the confused to the amused. Many go with it. Others extract themselves from the uninvited napper. I asked Ferrandi whether any of those responses were especially unexpected. Her reply?
Each time I did this, I had no idea what to expect from the person next to me, so every reaction was surprising. I think the general assumption would be that the reactions might break down along gender lines, with women being understandably more protective of their space, but it really didn't happen that way. There was no predictable pattern to peoples' responses, which is part of what is interesting about it. I'm not sure we could even predict what our own responses would be in this situation.
Behold: