Have you been looking to buy yourself a Constant Wear Garment, manufactured in 1968 by the Atlas Underwear Corp?
No? Would it change your mind to know that the garment—long underwear, essentially—was made for, and worn by, one Buzz Aldrin as he prepared to take his historic trip to the moon?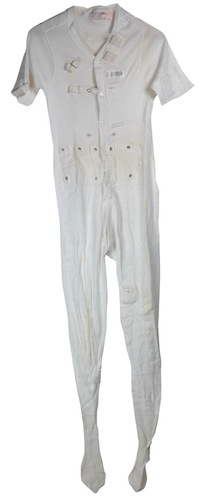 Then today is your lucky day. The garment, along with a cache of other Apollo- and Gemini-related memorabilia, is being auctioned off. Act fast, and you can become the proud owner of some truly epic underwear. And also of: an engineer's mockup of the lunar module control panel, a camera flown on the Salyut 6 space station, and John Young's Gemini 10 toothbrush. 
Some of the items up for sale are funny. Some are covet-worthy (my birthday is coming up soon, is all I'm saying). What many of them also are, though, are poignant reminders of how financially precarious it was, even during the most celebrated moments of the space program, to be an astronaut. The Apollo crew was paid a per-diem rate of $8—around $50 a day in today's terms, per day—for the work they did in space. This was the standard away-from-base payment military officers would receive … and it included deductions for things like accommodation (because the astronauts, after all, were being housed in their spaceship).