Because, in 1 Chart
An exploration of what we know and want to know about a simple word
The way Americans use the word "because" is changing, as chronicled by my colleague Megan Garber.
So, I got curious about the word "because." I've been playing with a bot—a little bit of code—that probes what Google suggests to searchers. Google makes these suggestions on the basis of what people have previously searched. So, I see it as a way to see into the collective consciousness. Basically, the bot works by typing "because a" and see what Google says. Then, "because b," and "because c," and so on. All those suggestions get compiled and we can play with the file.
I tried this for the first time with "Bitcoin" yesterday, but my probe yielded mostly predictable results.
"Because," on the other hand, yielded delightful results. They were particularly interesting because almost all of them could be classified into one of six categories, and the outliers are ... so, so strange.
First, let me show you some example searches from each category:
Music/Lyrics: "because he lives hymn," "because the night lyrics," "because elliott smith"
Language Queries: "because grammar," "because Korean," "because part of speech"
Memes: "because aliens," "because China," "because race car"
Product/Organization: "because foundation," "because bags," "because justice matters"
Quotes: "because knowledge is power gi joe," "because dennis is a bastard man," "because good is dumb"
Coding/Computer/Homework Help: "because alwayscreate was specified," "as much because x as because y," "because xlive.dll"
OK, now, get this: When I applied these categories to the 104 suggestions Google had given around the word "because," all but nine made sense in one of these categories. Granted, I was stretching things a little, as in the search "because vine," which I classified under memes because I assume people are looking for the short video on Vine of Rihanna saying "because." (Trust me, this is a thing.)
But with that caveat, here's the pie chart of these categories.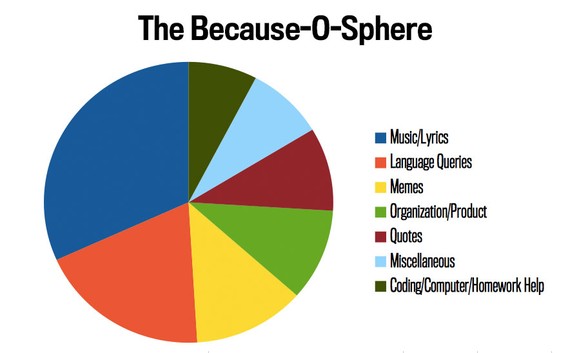 Just look at how many of the searches are around music and lyrics! Along with language questions, that's more than 50 percent of Google's suggestions.
I can't quite tell you why, but I found this fascinating.
Some of the particular searches yield bizarre results, too.
Take: "because bureaucracies are so rule-based they." This turns out to be a quote from an old AP Government exam! For some reason, students (I assume) were typing this quote into Google. Or maybe it was teachers trying to catch students? I'm still not sure.
Or another weird one: "because zombies can't jump." There is a game called "Zombies Can't Jump." But there's no reason to Google "because zombies can't jump." At least no reason that enough people would have that they'd show up on Google's radar.
A last interesting example: "because pronunciation." As a native American English speaker, I don't really think about the fact that Americans tend to say "because" as "becuz." But people learning English find it confusing, at least according to this video, which is the top search result.
What's the point of these kind of detailed analyses of individual searches? Well, Google (and to a lesser extent Bing), define the informational boundaries during most people's first step in knowledge gathering. Their suggestions both reflect and influence what people know and want to know about a topic.
There is a complex web of Internet and pop culture, education and work, that surround even a simple word like "because."
Here's the full list, along with my codings.
| | |
| --- | --- |
| String | Category |
| because aliens | Meme |
| because abbreviation | Language |
| because alwayscreate was specified | Coding |
| because asl | Language |
| because beatles | Music/Lyrics |
| because beatles lyrics | Music/Lyrics |
| because bags | Product |
| because bureaucracies are so rule-based they | Homework |
| because china | Meme |
| because comma | Language |
| because cats | Meme |
| because cats iphone case | Meme |
| because dave clark five | Music/Lyrics |
| because dennis is a bastard man | Quote |
| because definition | Language |
| because days come and go | Music/Lyrics |
| because environment variable django_settings_module is undefined | Coding |
| because elliott smith | Music/Lyrics |
| because every mother matters | Organization |
| because everyone else is boring | Quote |
| because french | Language |
| because foundation | Organization |
| because fitness | Organization |
| because freedom | Meme |
| because grammar | Language |
| because good is dumb | Quote |
| because guitar chords | Music/Lyrics |
| because god is real | Product |
| because he lives | Music/Lyrics |
| because he lives lyrics | Music/Lyrics |
| because he lives chords | Music/Lyrics |
| because he lives hymn | Music/Lyrics |
| because i got high | Music/Lyrics |
| afroman because i got high lyrics | Music/Lyrics |
| because i said so | Misc |
| because i said i would | Organization |
| because justice matters | Organization |
| because justice matters rise | Organization |
| because japan | Meme |
| because jesus | Meme |
| because knowledge is power | Quote |
| because kids count conference | Organization |
| because knowledge is power gi joe | Quote |
| because korean | Language |
| because lyrics | Music/Lyrics |
| because life is short and you are hot | Quote |
| because lyrics beatles | Music/Lyrics |
| because lee hi lyrics | Music/Lyrics |
| because massage | Misc |
| because music | Music/Lyrics |
| because music is my heartbeat shoes | Music/Lyrics |
| because maybe | Quote |
| because nice matters | Misc |
| because not only but also | Language |
| because nobody likes bras | Misc |
| because ninjas are too busy | Misc |
| because of you | Music/Lyrics |
| because of winn dixie | Product |
| because of you lyrics | Music/Lyrics |
| because of who you are | Music/Lyrics |
| because part of speech | Language |
| because preposition | Language |
| because punctuation | Language |
| because pronunciation | Language |
| because quotes | Quote |
| p because q | Misc |
| because quitters quit | Quote |
| because quotes tumblr | Quote |
| because racecar | Meme |
| because reasons | Meme |
| because resources are scarce | Homework |
| because rihanna vine | Meme |
| because synonym | Language |
| because shanna said so | Misc |
| because song | Music/Lyrics |
| because sunggyu lyrics | Music/Lyrics |
| because the night | Music/Lyrics |
| because the internet | Meme |
| because the night lyrics | Music/Lyrics |
| because thesaurus | Language |
| because u loved me | Music/Lyrics |
| because u loved me lyrics | Music/Lyrics |
| because usage | Language |
| because used in a sentence | Language |
| because vine | Meme |
| because vs since | Language |
| because vs due to | Language |
| because vs that | Language |
| because we can | Misc |
| because we can lyrics | Music/Lyrics |
| because we can tour | Music/Lyrics |
| because we want to | Music/Lyrics |
| because x | Language |
| as much because x as because y | Homework |
| because xm | Organization |
| because xlive.dll | Coding |
| because you loved me | Music/Lyrics |
| because you loved me lyrics | Music/Lyrics |
| because you live lyrics | Music/Lyrics |
| because you loved me mp3 | Music/Lyrics |
| because zombies can't jump | Misc |
| because zinc has nearly the same | Homework |
| because zlib1.dll | Coding |
| because zombies are coming dear | Meme |