A Printable Humanoid Robot and Why Mourning Is Futurism
Plus: civilian drones, the infrastructure of web publishing, and Silicon Valley's Batman-themed go-go club in today's 5 Intriguing Things.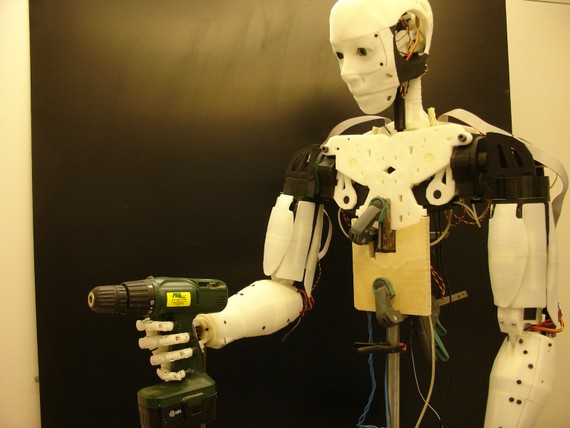 1. Meet InMoov, an open-source 3D printed life-size humanoid robot project. Some assembly required.
"This is going to be interesting. We are going to assemble a finger to a small servo for testing it with an Arduino board."
2. When someone dies, we mourn the futures we imagined we'd have with them.
"In the years ahead, it may be able possible to measure the 'trauma' of a spousal death, a breakup, a forced career change, or other stressful event on the basis of how established that relationship was in a person's perceived future."
3. The economics and infrastructure that you don't see on the web structures what you do: on the confusing, mostly hidden side of publishing on the Internet.
"Looking at Medium, along with Vox, and Glam, and even AOL, I think I can begin to discern the vague outlines of how digital publishing might eventually be able to deliver the kind of scale and impact that brand advertisers demand from TV and glossy magazines."
4. There was once a night club in Silicon Valley that changed its name from Sunnyvale-a-Go-Go to Wayne Manor, which had a Batman theme.
"Admittedly this seems somewhat unlikely these days but back in 1966 if you happened to reside in the Bay Area of San Francisco you were in for a treat as Wayne Manor opened with dancers dressed as Catwoman and Bat Girl and the whole place done out like the Bat Cave."
5. Chris Anderson's drone company, 3D Robotics, launches its civilian craft off the USS Hornet.
Thanks Robin Sloan, Yasmine Abbas, and Patrick Tucker. As always, you can send suggestions to: amadrigal[at]theatlantic.com.