5 Intriguing Things
Randi Zuckerberg's book, auditory determent devices, the glory of Fourier transform, the 3D printing biz, and a massive treasure trove of data about Earth.
1. The last page of Randi Zuckerberg's book.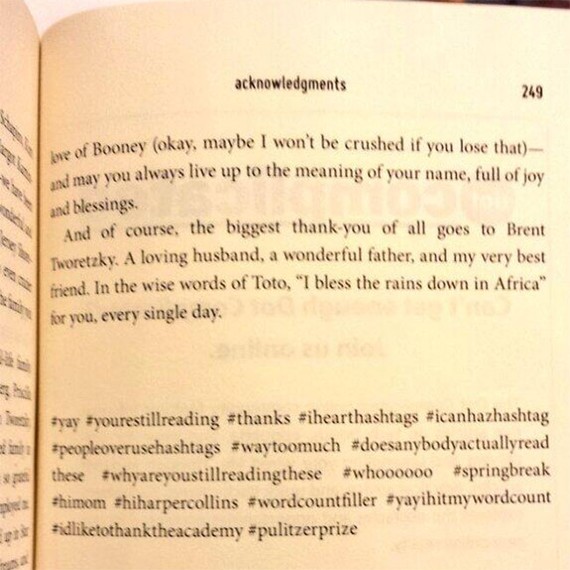 2. The sonic war on birds and other crop stealers.
"A Bird Gard can also play species-specific distress calls. Got pain-in-the-ass finches? Put in the right computer chip, and your speakers will serenade them with chirps and tweets that will trick those birds into staying away."
3. What a Fourier transform is, and why they're ubiquitous.
"Now, instead of single key, say you play three keys together to make a chord. The resulting sound wave isn't as pretty—it looks like a complicated mess. But hidden in that messy sound wave is a simple pattern. After all, the chord was just three keys struck together, and so the messy sound wave that results is really just the sum of three notes (or sine waves)."
4. The largest and most important 3-D printing company, Stratasys, reported its quarterly results.
"For the three months ended September 30, 2013, we recorded a net loss attributable to Stratasys Ltd. of $6.6 million."
5. The National Center of Atmospheric Research scoured the scientific world for 6,000 old datasets about how the earth operates and made them available online.
"'We found one tape in a garage in Edmonton, Alberta,' says Williams. It held data from the Severe Environmental Storm and Mesoscale Experiment (SESAME) project, a landmark study of severe storms across the Great Plains in 1979."
* Thanks Hilary Mason!
#yay #yourestillreading
Subscribe to 5 Intriguing Things