1 Gun, 2 Batteries, 3 Balaclavas: What Was in Soviet Cosmonauts' Survival Kits
Let's just say that they packed for adventure.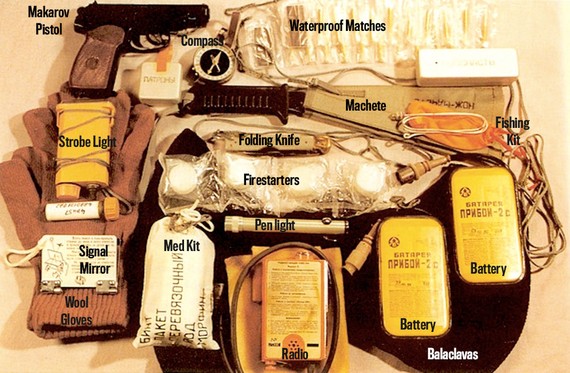 Sure, Soviet cosmonauts had to face the difficulties of space travel, which were tough enough.
But what if they happened to crash land in some unknown territory? At the height of the Cold War? What would they do? How would they survive and contact their countrymen? What if they encountered hostile animals or other humans?
For all these reasons, the cosmonaut survival kit that our friends at The Appendix dug up is remarkable. Here is a list of all the items that were included in the NAZ, as it was known as in Russian (Носимый Аварийный Запас, Nosimyi Avariynyi Zapas). We can thank RuSpace, a Russian space blog, for this impressive feat of archival dedication:
The NAZ-3 is designed to serve the three cosmonauts for 72 hours and includes (left to right, top to bottom in photo):

Makarov pistol and ammunition;

wrist compass,

18 waterproof matches with striker;

machete;

fishing kit;

strobe light with spare battery;

8 fire starters;

folding knife;

antenna;

3-pair wool gloves;

signal mirror;

NAZ-7M type medical kit;

penlight;

R-855-YM or R-855-A1 radio;

two "Priboy 2S", ПРИБОЙ-2С radio batteries;

three wool balaclava hoods.

Not shown are containers, three PSND, ПСНД hand-held flares; 15 mm flare set; whistle; sewing kit; insect repellent; wire saw; rations and 2-liter water container.
I took the description here, and labeled the photograph above. I feel confident that I placed the markers properly for most of the items, but I'm shaky on the identifications for the strobe light, antenna, and med kit (if you happen to have detailed knowledge on the matter).
Update: A reader wrote in to correct the strobe light and antenna IDs: the photo labels have been changed. Now I'm pretty sure the strobe light is in the right place, but I' have no idea where the antenna goes. 
Nota bene: This survival kit is probably a pretty good starter kit for the zombie apocalypse. I mean, there's even a machete.