You Can Now Liberate GIFs From the Web With an Old, Weird Technology
A printing process from the 1940s produces GIFs you can hold.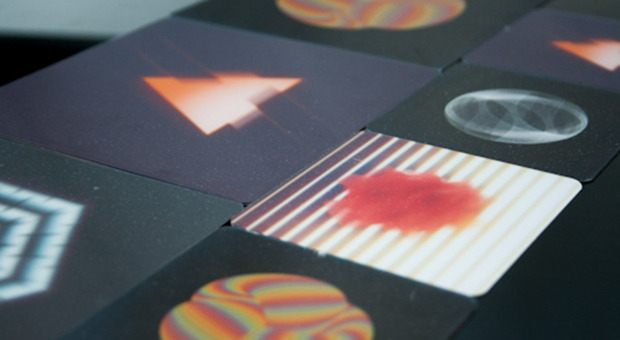 We live in an age of great GIF ubiquity. The animated images, receptacles of small, silent feeling, news, or art, are everywhere and here to stay. GIFs are malleable yet sharable, concise yet context-free.
They're also trapped online: Introduced in 1987, the Graphic Interchange Format is a product and prisoner of the digital world.
Or are they? A new project is trying to liberate GIFs from the digital world with the help of one old, weird, 20th-century technology.
Two programmer-designers, Sha Hwang and Rachel Binx, debuted a Kickstarter campaign today—and saw it funded, in the same day—to print animated GIFs onto lenticular-printed cards. Now that it's funded, their project, GIFPop, could turn your favorite GIF into a little card you can hold in your hand.
You're likely familiar with lenticular film: It's the pitted, prismatic plastic pictures often on postcards or packaging. A lenticular image appears to move as the viewer moves, its animation looping within a short number of frames. Lenticular film has been around for generations: According to a 1999 New York Times story, the technology dates back to World War II, "when developments in plastics made it possible to create the ribbed sheet that sits on top of every motion-image card and autostereo image."
Lenticular images, in other words, constitute a short, tradable, malleable form that can display, in a loop, a series of images or a moving image. Like many other early, material precursors to animation (the thaumotrope, for example!), it shares many attributes with GIFs. The power of both GIFs and lenticular film springs from their constraints—even if, for the lenticular plastic, the constraints are material (they can only store about 10 frames) or, for GIFs, attentional (make a GIF too large and it won't download speedily).
So this project unites two similar technologies, material and digital, into one collaborative medium somewhere between the two. If it succeeds, it will bring producing a material animation by an old, strange, lo-fi process into reach for more people. (Few folks by themselves can afford a custom run of lenticular-printed cards.)
Binx and Hwang's project might also bring some of the products and creations of the online GIF world into lenticular-land. In addition to the custom GIFs they hope to print, they'll be running off limited batches of work by three GIF artists, including Mr Div, 89-A, and Davidope: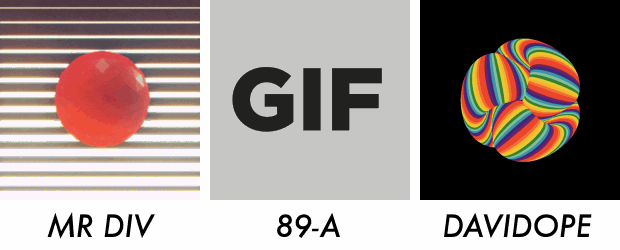 "These artists are paving the way for incredible, haunting, and whimsical new forms and explorations," they write. "We see these artists as pioneers, and we are not interested in treating digital art as a second class citizen the way it often is in the art world."
Here's one of their art-GIFs, made graspable (then turned back into a GIF!):
The finished product, in all its sharable-ness, may resemble trading cards. It turns out that was exactly the point. The idea for Gifpop sprung from something else spawned by the Internet: the game Cards Against Humanity.
"We were actually at a holiday party last year and everyone was talking about Cards Against Humanity," Hwang wrote in an email to me. "And Rachel and I were kind of off in our own world, and I mentioned how there should be a Cards Against Humanity played entirely with reaction GIFs."
"Like, one card would say, 'My face when I see my ex with her new boyfriend,' and then players would put reaction gif cards down."
The pair began to explore ways to incarnate the GIF. "Eventually we arrived at lenticular printing, but it took a couple more months to actually start doing test prints and seeing if it could work!"
And now it's been funded. With success like this, maybe it's only a matter of time until we see Reaction GIFs Against Humanity. And that game—a physical game augmented by digital culture—will have danced quite a flip-flop.