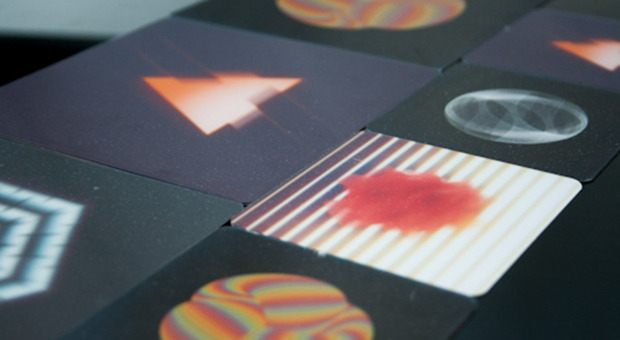 We live in an age of great GIF ubiquity. The animated images, receptacles of small, silent feeling, news, or art, are everywhere and here to stay. GIFs are malleable yet sharable, concise yet context-free.
They're also trapped online: Introduced in 1987, the Graphic Interchange Format is a product and prisoner of the digital world.
Or are they? A new project is trying to liberate GIFs from the digital world with the help of one old, weird, 20th-century technology.
Two programmer-designers, Sha Hwang and Rachel Binx, debuted a Kickstarter campaign today—and saw it funded, in the same day—to print animated GIFs onto lenticular-printed cards. Now that it's funded, their project, GIFPop, could turn your favorite GIF into a little card you can hold in your hand.
You're likely familiar with lenticular film: It's the pitted, prismatic plastic pictures often on postcards or packaging. A lenticular image appears to move as the viewer moves, its animation looping within a short number of frames. Lenticular film has been around for generations: According to a 1999 New York Times story, the technology dates back to World War II, "when developments in plastics made it possible to create the ribbed sheet that sits on top of every motion-image card and autostereo image."
Lenticular images, in other words, constitute a short, tradable, malleable form that can display, in a loop, a series of images or a moving image. Like many other early, material precursors to animation (the thaumotrope, for example!), it shares many attributes with GIFs. The power of both GIFs and lenticular film springs from their constraints—even if, for the lenticular plastic, the constraints are material (they can only store about 10 frames) or, for GIFs, attentional (make a GIF too large and it won't download speedily).