Twitter Marks Philadelphia City Paper as Spam, Breaks All Links to the Site
With an election looming in less than a week, journalists are being pressed into holding off on publishing their work, for fear that they won't be able to serve it to readers.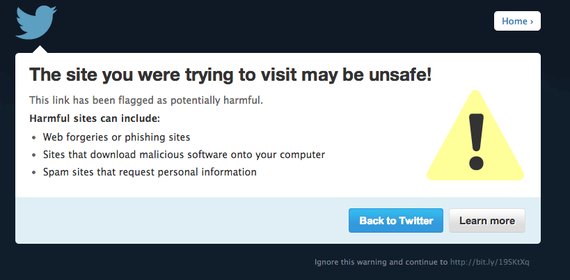 Reporter Daniel Denvir has a story that's burning a hole in his pocket. It's about a judge who is up for a retention vote on Tuesday, a judge who once ruled that sexual assault against a prostitute could not legally constitute rape. Denvir's piece is all ready to go, yet he's holding off on publishing it.
Why? Because ever since yesterday morning, all links from Twitter to Philadelphia City Paper, where Denvir works, have been broken, mistakenly returning a spam warning to readers where the articles should be. (Disclosure: I know Denvir personally from a program for journalists we both participated in three years ago.)
Paulina Reso, the paper's digital media editor, says that they've double-checked the security of the site, and they haven't been able to come up with a plausible explanation for Twitter's error. "I have no clue," she told me in an interview. "We confirmed in Google Webmaster tools that our site was clean and we don't use many third-party plug-ins that could embed malware. It's a mystery to us." One possibility: There are a few reports of similar troubles at other sites, and it may be the case that City Paper's Twitter shut-out is part of a bigger problem.
Perhaps most frustrating of all is that Twitter has not been particularly responsive to the paper's plight. Reso filed a support ticket, and received an automatic message informing her that she could "expect a response in a few days," which, she adds, "in the digital world is months." Several hours later, around 5:30 ET yesterday, she received an email from Mark Luckie, Twitter's creative content manager, instructing her to forward her ticket number to an email address for media. "Since then," she says, "I haven't heard anything." (I have reached out to Twitter for comment, but have not received a response.)
In the meantime, the paper has published its new weekly issue, but the staff has been unable to promote it via Twitter. For a site like City Paper's, Twitter is essential for getting their work out there. "Our webpage is not many people's homepage, the way nytimes.com is," Denvir said in an interview. "Our articles that have the most impact—say my discovery a few weeks ago that a sixth-grader had died after allegedly falling sick at one of our resource-starved schools with no nurse on duty—get attention because they are shared." Denvir is also holding a story on an a new project devoted to collecting school-by-school stories on the effects of the city's education budget crisis. "But," he added, "I can't hold off forever. Pressing news."
Denvir says that the incident has pushed him to consider the relationships that now exist among media organizations and the social tools they rely on to spread their work. "It had never really hit home for me before that we all depend on these external social media entities, controlled by private companies, to provide a service that is now integral to publishing news online," he remarked. "It is not a service we pay for. It is not a service that we—or for that matter anyone else—can provide internally. So being shut out of Twitter, the best we can do is beg via online forms and hope that they let us back in soon. It's really strange."
At this point, Reso just wants to know when the problem will be fixed. "If we had some expectation as to when this would be resolved, or when we could anticipate a response, it wouldn't feel like we were at the mercy of Twitter," she says. "But we haven't received any updates from them since filing our ticket. We're completely in the dark."
---
Update 2:53 pm: As a workaround, City Paper has created a Tumblr and is tweeting links that direct to there. From the Tumblr, readers can click through to the full versions of stories at the City Paper site. With the workaround in place, they have now published Denvir's story, and tweeted a link to the short version of it that lives on Tumblr.
Update 5:36: I have been informed by Reso that links to City Paper from Twitter are working again, though Twitter has not provided an explanation.