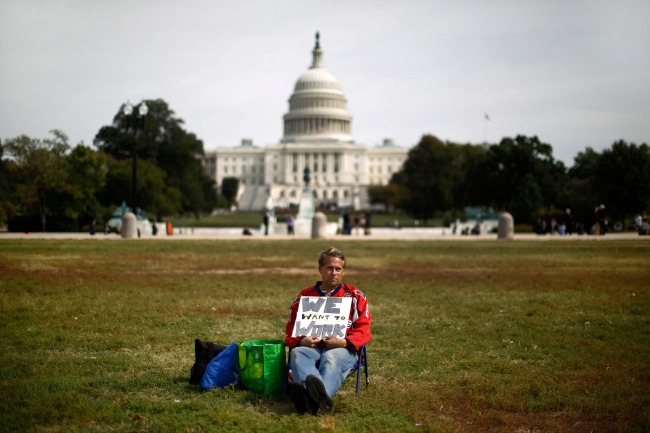 For many furloughed federal employees in the D.C. area, the shutdown has had immediate and difficult ramifications: Without a paycheck (even if one is promised later), covering rent, groceries, and other bills can be suddenly out of reach. Unemployment claims in the District and surrounding states have increased by thousands since the shutdown began.
Many of these people are highly skilled. Conveniently, there are many startups in the D.C. area who need a highly-skilled person with a few hours on his or her hands. And it was this pairing of needs that inspired Tom Clark to create a Google spreadsheet, on which those looking for work and those looking for workers could be matched.
Last week, Clark built and released the Shutdown Work Board, which consists of one page of instructions, one page where employers can post work, and one page for workers to post their qualifications. As the front page warns, "There is NO vetting process for the types of positions/projects listed here and there is NO vetting process for the candidates seeking temporary work." In other words: This is just a platform—from here it's up to you.
And that was all it took. "Within 6 hours," Clark told me over email, "we had more than three dozen temporary jobs posted, and within 36 hours, we had more than 3,000 visitors to the site." He added, "We knew we were on to something with Google actually reached out to offer some tips for using Google Docs because the page was getting so much traffic and people were getting locked out of viewing it." Clark shared it with entrepreneurs he knows from working at D.C.'s start-up hub and co-working space, 1776.
Some of the jobs are one-off projects, such as a posting from the Opence Cancer Network, seeking a "PowerPoint and design wizard": "Our presentation decks are ugly. Help us make them beautiful." Others entails more long-term commitments, such as a job for a Python developer from a company called FlatWorld Knowledge. Several of the jobs have been coded red; they've already been filled.

For Clark, the basic idea was familiar. He works for a company called myEDmatch, which pairs teachers with schools that have similar values and ideas about education. "We built a pretty sophisticated employment marketplace and matching function for teachers to find best-fit jobs and for schools to find and recruit top talent, but," he says, "at its core, it's not all that different from the Shutdown Work Board."
Donna Harris, a cofounder of 1776, says that the effect of the spreadsheet was already visible the day after it was created. "Less than 24 hours later," she wrote me over email, "we had several federal workers hanging out at 1776 doing work for startups. We had one person who was helping photograph product for a startups web store. Another person, who had some technical skills, was learning a new coding language and doing some basic coding for a startup."
"The longer the shutdown goes on," she added, "the more I think we'll see these sorts of connections happening." 1776 is also planning to offer trainings and other free sessions for furloughed workers.
The furloughs may prompt federal employees to leave government work altogether, and find jobs in D.C.'s growing startup community. "The reality is that for many federal workers (or those in contracting positions), being furloughed puts a fine point on the fact that the jobs they thought were secure are now just as risky as other options," Harris says. "Overlay that with Obamacare, which frees them to explore alternate career choices without fear of losing health coverage, and there has never been a better time for them to explore working at a startup." For federal employers, any such attrition will mean that the shutdown's effects will be felt long after the government re-opens its doors.