Ride a Horse, Save a Camry
Area woman, deprived of her car, uses an equine vehicle to get to the DMV.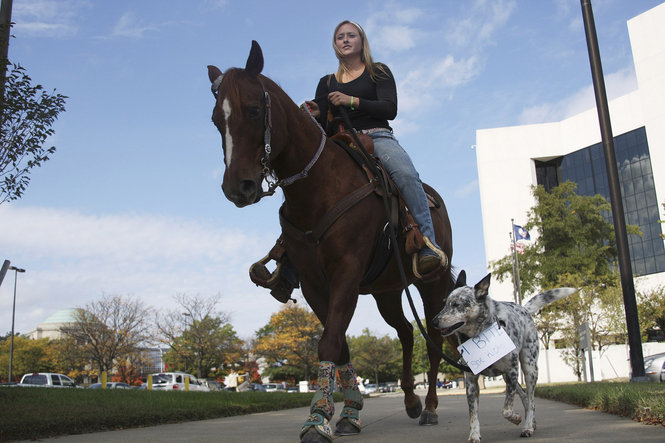 Sometimes the most efficient transportation technology is a very, very traditional transportation technology. Sometimes, if you've got somewhere you need to be, all the horsepower you need comes from a single horse.
Take Ashlee Owens. The Virginia 26-year-old recently had her license suspended by the Virginia DMV after the agency hadn't received proper proof-of-insurance paperwork. (She'd made "numerous attempts" to send the documents, the AP reports, but the DMV had apparently not received them. Phone calls in which she attempted to lift the suspension were, it seems, similarly unsuccessful.)
So Owens found herself the victim of a particularly cruel irony: Driving her car was illegal, and the only way to make it legal again would be to ... drive her car to the DMV.
You know what other vehicle Owens had access to, though? A horse. A quarter horse, to be specific, named Sassy. 
So Owens did what any car-deprived woman in possession of a one-horsepower conveyance would do: She went back to basics. She hopped onto Sassy and trotted into downtown Richmond. And she brought her dog, Tuff, along for the ride. Owens, once she arrived at the DMV, hitched Sassy outside the agency and then hand-delivered the missing paperwork.
Owens' road-hack worked: Having visited the DMV in person, she straightened things out and got her license back. And when the DMV official listened to her story, Owens got her fees waived, as well. A happy ending, all around—courtesy of a strategically harnessed vehicle named Sassy.