Finally, an Art Form That Gets the Internet: Opera
True to operatic tradition, Nico Muhly's Two Boys has murder, cross-dressing, and an angry mob of commenters.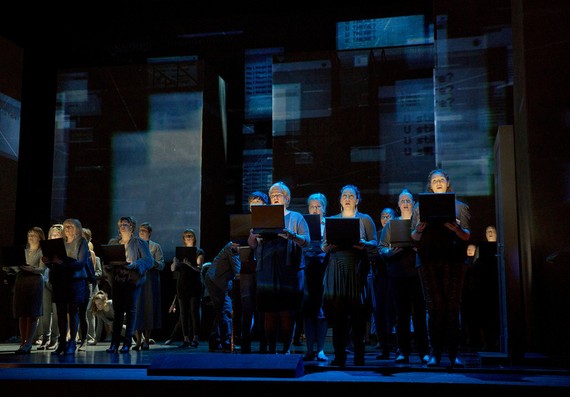 Brian, 16, is instant-messaging. He's chatting with a girl he's never met in person—a girl who, by the looks of her avatar, seems both his age and more beautiful than any girl who's ever deigned to talk to him. And she just asked to take the chat private.
Sitting at his laptop, in his room, Brian pauses for a moment; his mouth hangs between a smile and an inhaled breath. He gets up, hurries to the door, makes sure his parents aren't on the other side. He locks it. He hustles around his room again, around his bed and back to his computer—I can see the disbelief, awe, anxiety on his face—and sits back down at the computer. They're in a private chat room now, this girl and him.
He faces the laptop. On his screen, words appear from the girl: "What's going on?"
The words appear on a tower as tall as a house behind Brian's head. Hazy music wafts around him, music over which the girl—her name's Rebecca—sings: "What's going on?" The music swirls again.
Thousands of us are watching him, watching him respond, seeing what he'll do next.
How do you depict the Internet in art? I can think of few current aesthetic crises as vital as this one. As the writer Quinn Norton has said, "Right now my field must tackle describing a world where falling in love, going to war and filling out tax forms looks the same; it looks like typing."
I grew up typing. Hours of my adolescence passed in AOL Instant Messenger chats, in Facebook comment threads, in earnest email confessions. So when I heard, four years ago, that a new opera would address teenagers, the web, and the anxieties of both, I was intrigued.
That opera is called Two Boys, and it premiered last week at the Metropolitan Opera in New York City. It runs until the middle of November.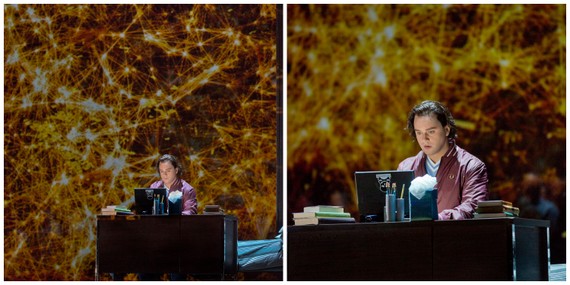 Nico Muhly, its composer, is 32, the youngest musician ever commissioned by the Metropolitan Opera. You have probably heard his music: He scored the film The Reader, played keyboards with the Arcade Fire on Saturday Night Live, orchestrated songs for albums by Grizzly Bear and Sigur Rós's Jonsi. He seems easy to categorize with the faddish language of the commercially hip. As William Robin joked in the New Yorker last week: "fashion-friendly, foodie, indie-classicist, Millennial tweets—while audaciously writing pop and classical music at the same time!"
Muhly has constructed something more substantial with his career. He's busy: Since Two Boys was commissioned six years ago, he's composed more than 70 pieces. As Robin puts it, Muhly's oeuvre subverts a "Beethoven Paradigm," common to the last century of classical music, in which an aloof artist emits a single, epochal work every few years, and for it substitutes a "Vivaldi Paradigm," where music becomes the workaday product of a chipper, collaborative craftsman. Reading Robin's essay, I thought of the "practice your passion" rhetoric of life hack blogs and maker culture mags. I thought of this tweet:
whenever mad young composers are like "gimme advice" I always want to say "watch jiro dreams of sushi" and then do that but music.

— Nico Muhly (@nicomuhly) October 6, 2013
I thought even of that Ira Glass video where he admonishes wannabe storytellers to "work through the suck." Muhly isn't nearly the only composer to embody that attitude—if it's how artists get better, they all do, right?—but his career might seem its avatar.
At a Two Boys rehearsal, he sat mostly in the audience with his laptop, but dashed every so often to the stage or to the director's side. In conversation, he can layer phrases so quickly that he trips over them; in person, he was inordinately helpful. He wears mostly draping black things, and his head is shaved save for a central, confetti-like poof; in a Reddit AMA, he said that, with it, "normally we're going for a sort of Guggenheim Bilbao effect."
The story unfolds as a police procedural. Set in the north of England in 2003, the audience follows Anne Strawson, a detective charged with investigating the stabbing of a 13-year-old boy named Jake.
The main suspect is a 16-year-old boy named Brian, the only witness to the crime. But instead of a confession, he supplies first surliness, then an intricate alibi: Shadowy friends of his, including a "perv" gardener and a high-ranking female officer of the M15, ordered him to stab the younger boy. Moreover, he has been negotiating these forces for some time: His girlfriend, Rebecca, Jake's sister, whom he knew only through chatrooms, was recently raped and murdered by the "perv" gardener. There are further details, but Brian is made to understand by all the members of his network that he can either stab Jake or die, and that, regardless, Jake will soon die of cancer.
Based on real events that occurred in 2003, Two Boys' story was most popularly described in a Vanity Fair article. There, as in the opera, the twist is the same: Jake, this 13-year-old boy, was and always had been every person in Brian's network of chatroom friends. When Brian stabs Jake, Jake has incited it.
"This is an opera that is essentially set on the Internet," says Mark Grimmer. "And we don't know what the Internet really looks like."
Grimmer is a designer at Fifty Nine Productions, the firm that the Two Boys directing team turned to to help realize the opera's web. Fifty Nine Productions creates projections and moving images for live performances. The Met has used its work before, but the scope of its presentation goes far beyond opera: It contributed to the 2011 Tony Award-winning production of War Horse, a straight play; and to the 2012 Olympics opening ceremony in London.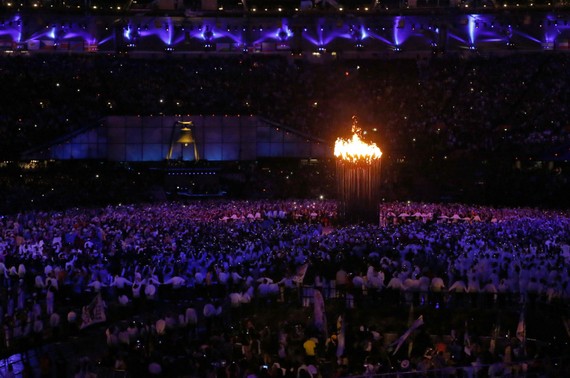 Fifty Nine Productions's two principal designers and directors, Grimmer and Leo Warner, joined a creative team that was similarly seasoned. Bartlett Sher, Two Boys' director, has directed repertory operas at the Met before, and he won a Tony in 2008 for his South Pacific. Michael Yeargan, the set designer, teaches at Yale and has also designed for the Met before. Craig Lucas, the librettist, is also a playwright and actor, and has worked with Stephen Sondheim. It is a veteran team, and it had a tough problem.
"We want to explore not just literal representations of how online communication works, but also more poetic expressions of what interconnectedness means," says Grimmer. "So it was a big sort of digital headache, wasn't it?"
Two Boys ran for the first time in the summer of 2011 at the English National Opera. Before that production, the team met to negotiate the big digital headache. (Before you can even project anything, you must have a surface to project it on.) They decided on a not-quite-bare stage: Six large, fabric-covered towers dominate the space, three on the right and on the left. They shift across the stage, right and left, backward and forwards, and they sometimes spin to reveal a too-tall door or window. They're hollow—in fact, there is a staircase inside each, so chorus members can ascend within them.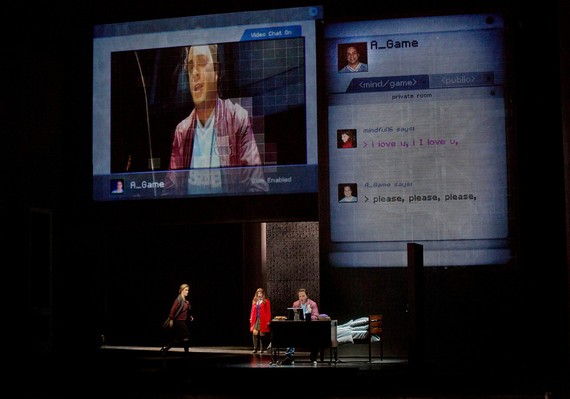 The projection team found it had two loose kinds of spaces to create on the gray towers: digital and physical. Physical spaces—a detective's office, an alley, a bedroom—could be dispatched without complication. Grimmer and Warner have made these spaces white or gray, steeped in a businesslike malaise: The sky outside the detective's office was a kind of static charcoal, "the color of a television tuned to a dead channel." These physical spaces were created, too, with a few props on the forward stage: A desk crowded with papers, a filing cabinet with an indoor plant, and a chair become Strawson's office. A bed, a desk, a chair, a laptop that glowed a bluish white, and a freestanding door became Brian's room. During transitions, these were whisked away unobtrusively by chorus members or hidden behind the towers.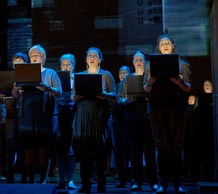 (Even the props masquerading as high-tech were low: The ubiquitous laptops, toted around by the chorus, which gave singers' faces a blue glow, seemed, upon inspection during rehearsal, to be made of cardboard, their lurid screen shine nothing more than a ring of LCDs. The towers' ominous movements was made possible by "rails" which were nothing more than gaps in the raised stage floor.)
The physical spaces, in other words, though tinged by the digital, were straightforward. The Internet was not. The team represented it via two kinds of scenes: in chatroom dialogues, and in large choruses.
Here is how Two Boys represents instant messaging: Brian sits at the right side of the stage, in his room, behind his computer, and the character he's chatting with stands at the left. Towers loom behind both of them; on the towers are the simulacra of chat windows. The words he types, and the words his companion types, appear on the towers behind both of them simultaneously. Muhly says that he and Lucas often took those words directly from chat logs: They could find no way to prune them further. When words appear in the chat window, they appear in abbreviated form, but the characters sing the extended version: "a/s/l" pops up on the towers, but Rebecca sings, "Age? Sex? Location?" And we see all this, this chat and this character, even though neither exists, even though, in the world of the opera, Rebecca's a creation of Jake's. He's the one behind the keyboard.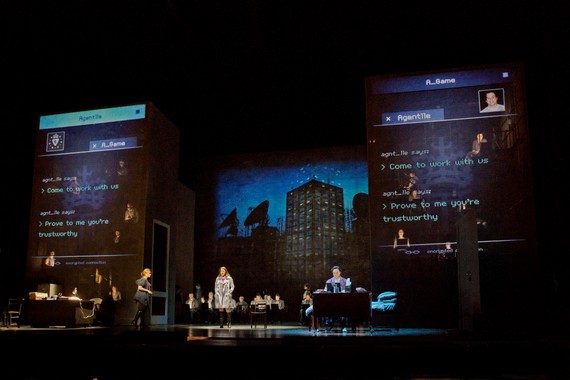 The effect is this: We see what Brian imagines. We see the words appear on his screen, the person he imagines typing them, and the screen he imagines, too.
Grimmer and Warner, the designers, very much intended this.
"It's very important that the seeming reality of the situation is shown physically onstage. Brian genuinely believes he's having these interactions with these characters," says Grimmer. "We wanted to keep reminding people that there is something really banal about the experience of having a conversation online. It's about letters appearing on a screen, but yet from out of that, it's as much about imagination as it is about anything else."
It is as skilled a representation as I've ever seen of instant messaging, that world where everything looks like typing.
But can you responsibly represent the Internet at all? In the past year, a consensus of sorts has formed among the web's tech scribbling nonfictionists. Critic Evgeny Morozov, for instance, rejects speaking of "the Internet," a term he thinks lacks useful rigor. Rather, he advises speaking of the things that give rise to the web: the assorted websites, habits, users that constitute it. Create "micro-media ecologies," accounts of how things function in a specific digital setting, rather than irresponsible generalizations.
An ecology like this, a precise history, is partly Muhly's goal. The real events that inspired his opera transpired in 2003; they've been moved here to early 2001. The pre-September 11 setting makes the detective's techno-ignorance more probable; it also sets the entire episode distinctly before the rise of online social networks.
This kind of document: It's so much Muhly's goal that, upon seeing Two Boys, some New York critics scoffed that chatrooms had become trivial. "The opera's subject is topical and important, though anything about the Internet is in danger of becoming dated quickly," writes Anthony Tommasini in his New York Times review. "Chat rooms are already kind of passé."
Never mind that the younger Muhly, an avid Twitter user, might know the web well enough to judge the contemporaneity of chatrooms. Much like how jazz critics ruled the piano trio The Bad Plus "ironic" after they covered "Smells Like Teen Spirit" and the theme from Chariots of Fire, some critics seem unwilling to recognize that there might be virtue in retelling recent but transpired history. The age of chatrooms has passed, sure, but the humans who dwelled there, who made friends with bodies they didn't know, still live and breathe and type. The opera's Brian, 16 in 2001, would be in his late twenties now; isn't he almost certainly a Redditor, befriending other anonymous males he's never met in person? (And that's not even mentioning Grindr, a service that traffics in a different kind of male camaraderie.)
Up to the mid-19th century, composers largely built operas from three types of components. There is first aria, in which characters, sometimes alone on stage, express themselves in solo song. Second, there is recitative, in which characters prattle to each other in a kind of speak-singing. And, finally, there's chorus, where masses of nameless faces stand on stage and lament, celebrate, or mock. Opera began at the turn of the 17th century as a way of reviving the raw, refined emotions of Greek drama, and the choruses are thus "Greek" in nature: Their feelings are reactive, unsophisticated, the id of the show.
"The history of the chorus in an opera, you know, they always represent this chorus of townspeople and various peasants. They represent sort of the multitudes," says Muhly. "What's exciting about this online world is that you can get the sense of people online behaving in this sort of hive mind."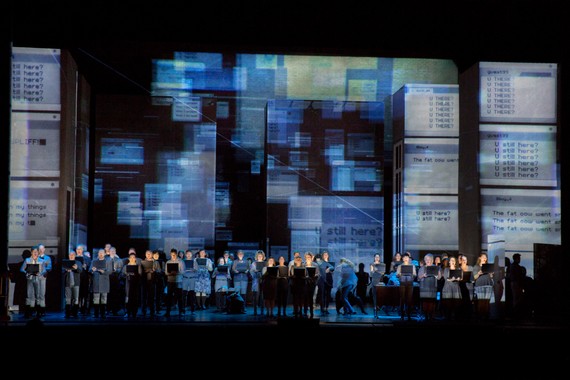 There are six choruses in Two Boys, and each imitates and incarnates the world of the chatroom. I found the first chorus the most successful.
Like the first instant chatroom scene, it begins in Brian's room. The towers stand on the right and left sides of the stage, with two at the back in the middle, creating the sense of two doors open to a space. Brian, in his room, on one side of the stage, sits down at his laptop and enters a chatroom.
All at once, projections flicker upon the surface of the towers. We see the same massive chatlike interfaces, and a single phrase scrolling down them, like someone is typing it, again and again and again: "U there? U there? U there? U there?" The chorus sings those words, too, so we're hearing and seeing them, and more words follow, until all the words tumble away into a projection of a vast, open space, across which helixes and plasma and networks flash and spin. Under all this, the strings pulse with exhilaration, and the low winds sound low, sustained tones, a phase slower than the anxious beat. As the chorus sing short phrases like this—"u there? u there? hey hey hey"—dancers now enter, gesticulating, moving fast-slow-fast with the artificiality of a simulation.
The projection becomes warmer, as all this is happening, showing yellow lights and yellow-orange ones, like flying lower over a city at night.
"For me, the idea of a fly-over," says Muhly, "the idea of like when you're landing in a city, and you see people tied together, and you begin to realize all the lights aren't just street lights but that blue computer light or that blue CRT light—that to me is a poetic image." It appears here, explicitly, representing the zoo of chatrooms.
The other choruses occur around other text, text Muhly says that Lucas "curated" and gave him to work with. At the end of the first act, the chorus sings, "Read the fucking manual! Read the fucking manual!" as an enormous man in a business suit, downstage, sings a lewd sex scene deadpan. The women's choral text then becomes "Younger looking for older!" as the men bellow, "Older looking for younger!"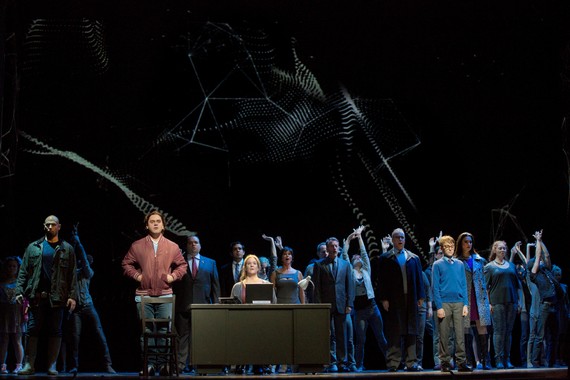 Often, the projections shown during choruses recall data visualizations. Since The Matrix, they've become a symbol for the web: network graphs, like the Internet, show uncountable connections forming and coming apart, a complex mass absorbable only as a general thing. It's funny, this stand-in of something the web makes possible for the web itself, a technological synecdoche, but it works.
In another chorus, an orange orb is projected onto the back wall. It's warm, and recalls something godlike. In the final chorus, the show's final scene, the main "analog" character sings with the digital horde as, on the towers and back wall, a right angle-heavy Cartesian plane curves, then becomes three-dimensional; the neat grid twists itself into the helixes we've been seeing the entire show.
"We went through lots of iterations," says Leo Warner, the director of Fifty Nine Productions, "trying to say, well, what if we don't make it look digital, how about if we use more abstract representations? In the final production, we kind of mix both ideas." One of the more "concrete" representations are the chatroom interfaces often projected during dialogues; the designers said they took inspiration from period software without mirroring it. Everything, for example, didn't have to be a bland office tan. The final projections look like a cross between Windows 95 and iOS 7.
"For me, the poetic thing is that there are many moments in the opera where the choir says precisely the same thing, everyone's saying exactly the same thing at the same time, and then other times, everyone's saying a million different things, all at the same time," Muhly says. "And so you get this chattering, and this kind of wild, electronic effect—"
He continued, interrupting himself: "Whenever you hear about those Chinese flash mobs, that to me has a very musical sound, which is, like, a single chord being agitated by 500,000 people." A single chord, in fact, forms the basis some choral harmonies: Muhly says that, harmonically, one chattering section consists "basically" of an A-flat major chord. "But then [what I'm doing is like] when you take an object and you're illuminating it from inside rather than out."
In that section, the choir is asked to repeat, on the text, little bits of information that they remember: phone numbers, addresses, names. The information means little in mass but much individually. It's a technique Muhly also used in the piece that opens Mothertongue, his second album.
Then, he says, "the choir acts as almost a mist ... almost like a mist of sound. So it's not the primary voice, and in fact, they're offstage but while people are talking about other things, you are aware suddenly that there's this kind of chatter. And you can't tell what anyone's saying and you're not meant to."
He compares it to spy movies, or scenes like the one at the end of The Dark Knight when a city full of cell phone conversations become intelligible.
"It creates a sense of size that you can't even see, where you already have a huge space, like the Met stage, and then there's a hint that it's even bigger, but you don't know how big—it's just a vastness."
A vastness with indecipherable edges: Muhly sees it as analogous to the Internet. But it's also a compositional technique with roots a century old. In his opera Rigoletto, the composer Giuseppe Verdi sets the choir off-stage during a climactic scene, scoring them to sing "ooo" at certain moments. (In this clip, you can first hear the effect at :35.) The effect isn't just atmospheric, but meteorological: With the orchestra, the choir simulates a rainstorm.
"One of the first decisions I made about this piece is that there were not to be any synthesizers," Muhly says. "And that was an easy decision to make, because it seemed like it was so obvious to do it, that it seemed like to not do it set me up some challenges that were really specific."
Two Boys surmounts those challenges by formally separating the physical and the digital, though. Muhly writes the divide between the two into the music itself.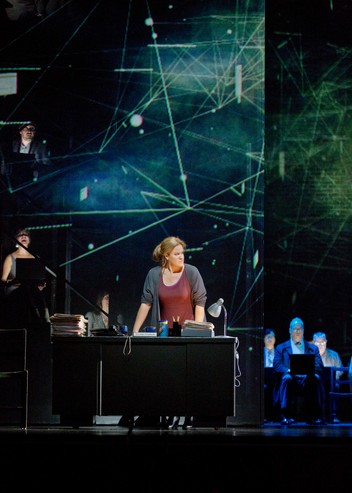 "Essentially, offline, we're kind of wherever, you can be in any kind of mode. Online, we're almost explicitly in Balinese gamelan mode, with a couple exceptions." He reconsidered. "We're either in gamelan modes or we're in a 1950s Herbert Howells, English choral music mode. Or two at once. But I tried to stay on gamelan mode."
Balinese gamelan music relies on scales that can sound jangly and unresolved to Western audiences. Howells is famous for his Anglican choral music; it has an ethereal, many-voiced feel. But Muhly borrows his larger technique here from another opera, Death in Venice, by the 20th century composer Benjamin Britten. There, Balinese modes always accompany the appearance of Tadzio, a boy of forbidden sexual interest to the main character.
"What you have is Britten saying that the way we're gonna talk about forbidden sexuality is not by making it sexy, but by making it this weird thing—like, three degrees removed from ethnic."
That anxiety, any anxiety at all: It permeates the entire piece. We see it in Brian's early, fidgety chats, where the mere possibility of allure makes him to rise and check to see if his parents are behind the door. We see it in Anne Strawson's initial repulsion at the digital. We see it later in the opera, too, as Brian's anxiety erodes the digital-physical separation, and the imagined characters from the chatroom stroll into his room, watch him type, and force him to do things.
Grimmer said the atmospheric anxiety shaped the projections as the opera progressed, too. "It's about traveling through different substances, which kind of represent different conversations with different people," he said. "By the end, we're in a very murky, fractured world. Things are falling apart—literally, images on the trucks start to crack and fall apart."
This anxious atmosphere, and Britten's way of talking about an anxious passion via a sideways mode: While viewers may see the anxiety as sexual, or technological, it's broader than that to Muhly. When we talked, he described how anxiety works in Two Boys.
"The anxiety can exist in a lot of different directions. It doesn't have to be generational; it doesn't have to be sexual; it doesn't have to be—" He broke off, then quickly restarted.
"So the question is, then, and the point that I was trying to make is, technology functions as a delivery system for the same drug that we've been taking since the beginning of time. Which is that you want to use the—you use costume, and you use deceit, and you use small lies and big lies in order to get something—and that something can be political or social or sexual."
We get off-track and we get on track, and sometimes we find tools. By Muhly's reckoning, the tools are another, impossible step away from the body, and it is these steps away that drive us to anxiety.
Brian first sees Jake, the boy he kills, in a church. "Meet me in church!" Brian types to Rebecca, but when Brian arrives there he finds no enchanting girl but a young boy soloist he doesn't know, who won't stop staring at him.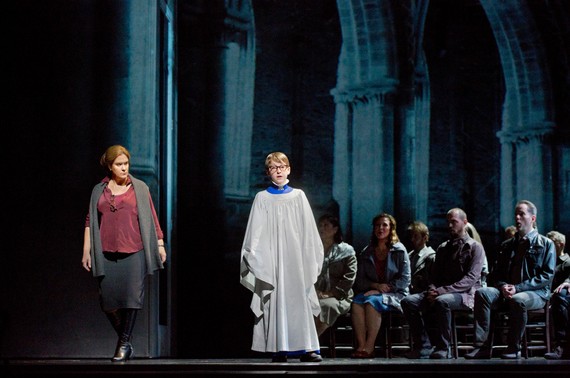 The boy sings soprano, and he has a solo in an evensong service that proceeds to occur on the stage. ("That's something I took super, super explicitly from Benjamin Britten, says Muhly. "That happens in [his opera] Peter Grimes and I love it, so I took it.") The lectionary that night specifies Psalm 133, and the audience hears the hymn in full. "Oh, how good and how pleasant it is / When brethren live together in unity!" The hymn continues, conspicuously male: "It is like fine oil on the head that runs down upon the beard of Aaron."
It's not the only time God enters the work. In the second act, Detective Strawson, pleading, tries to understand how Brian's stories could be so intricate and arbitrary. "From which God does he take such notation?" she asks. In Two Boys' final moments, after we have see Brian stab the boy, we hear the words of Psalm 133 ("Oh how good it is …") intermingle both with the first chorus's "Are you there? and an automatic, final "Kill yourself! Kill yourself! Kill yourself!"
From the warm, projected orbs to the Episcopalia, the divine, or the existential, keeps drawing the opera back, magnet-like.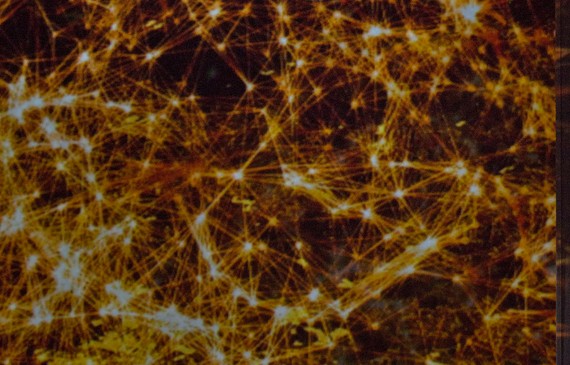 The same surveillance video clip plays three times in Two Boys, at the beginning, the middle, and the end. In it, we see Brian meet Jake in an alley. The older boy puts his arm around the younger; they walk outside of the frame. The video clip has a timestamp in the corner; it precisely frames the opera in history. Like Anne's office, stuffed with papers and filing cabinets, that timestamp bears the brand of the archive.
Muhly has dwelled in an archive before. For his first job in New York, he tended the personal archives of Maira Kalman. His second album, Mothertongue, moved in and out of the stacks. As mentioned, one of its pieces, called "Archive," asked a singer to remember phone numbers off the top of her head (knowing it to be a meaningful exercise, as cell phones now remember most trivia for us); another recounted a folk song—the recursive "Oh, the wind and the rain"—in the first movement, mangled it with electronic chimes in the second, then put it back together in the third.
The World Wide Web is a big archive, the biggest one we've ever created, humanity's greatest "work of literature," in the words of London artist James Bridle. What is chatting, even? All an instant message user does is read and supplement a document devised, archived, and accessed in the very, very recent past. Although the actual downloading happens offstage, little wonder that the plot cannot be resolved in Two Boys until the chat logs are downloaded from the server—or that the chat logs stick around long enough to be analyzed and parsed at all. Quinn Norton asks, "How do we make concrete, or at least reconstructable in the minds of our readers, the terrible, true passions that cross telephony lines?" The trouble of Two Boys is making the archive live onstage, making the operagoer see and hear the library.
In the second act, Brian struggles to describe the chatrooms to Strawson. "There is a world," he tells her, "a real place—better than, because it's real. You can't see it, but it's real."
In its choruses, in its gliding towers, the opera gives the Internet dimension. Dancers, moving forward and backward on the stage, give it depth; their jagged stops and starts hint that the web has its own time. They are mimicking computers, which are, themselves, mimicking tools.
"Everything ironic! There's no tenderness, there's nothing," sings Anne in the first act. "Ghosts in the machine." Two Boys isn't ironic, not even close, but if I have a beef with it, it's that it lacks tenderness itself. There's little love to be found between parents and children, between detective and suspect, even between boy and boy. The opera shows us God; it shows us the love between Brian and Jake. But I didn't feel it. Love, here, physical or digital but forever corporeal, must always be mediated, even if the medium is anxiety.
Yet in the second act, with minutes remaining in the show, my attention flagging, I caught the brass sounding a subdued fanfare. I can't remember what was happening onstage during the call, but the sound was low and lucid, and seemed to come from some less frenetic sensibility. The whole flourish lasted maybe 30 seconds, half a minute of unfurled tones, from what sounded like French horns and trombones. It was as scintillating as it was prosaic, respectful, and kind.
---
Two Boys runs through November 14. The Metropolitan Opera has posted a video with excerpts of the performance, including musical clips.