'Cranky Pancreas' Tweets: How the Diabetes Community Uses Social Media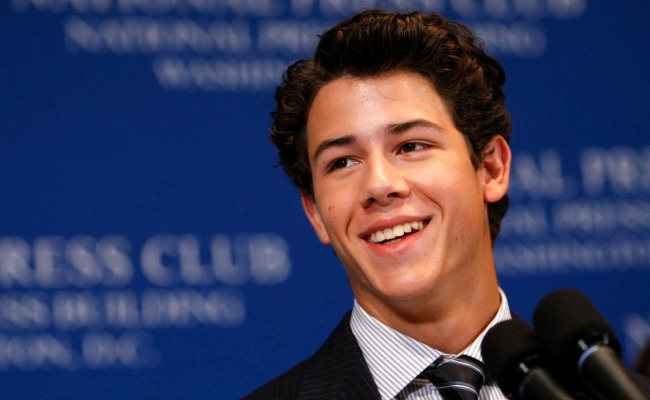 Attention, lovers of punny Twitter handles: Digitally savvy diabetics will thrill and delight. @crankypancreas, @_diabadass, and @ninjabetic are part of an enthusiastic group of bloggers and tweeters who share their stories, exchange articles, and cultivate diabetes wit online. But, sadly, their humor goes unheard by the doctors, researchers, and health-care companies who work on the disease. Online, these two communities are largely separate: While diabetics and their friends and family usually discuss what it's like to live with the disease, the professional medical community often circulates research findings and informational resources.
What does this mean for information sharing about diabetes—and health in general—on the Internet? John Kelly, chief scientist at Morningside Analytics, uses data about online sharing habits to track communities on the Internet. In this case, he turned to Twitter to track what kinds of links people share, which users retweet and mention one another, and what topics they discuss. The result is a partial "map" of how diabetes is talked about on the Internet: Each dot represents a Twitter handle, and the colors indicate groups of people who share statistically similar web-surfing habits.
For diabetes, "there are three major groupings of clusters," said Kelly. "People that have the disease and their advocates; people that make money off of it—everything from biotech to pharma to hospitals, the medical professional and healthcare industry; and then the people who don't want to get it, which is general nutrition, fitness, and healthy living oriented [people]."
"[Making] money off it" isn't necessarily bad, he added. That group includes all people who work in diabetes-related health care, including researchers who are trying to find a cure.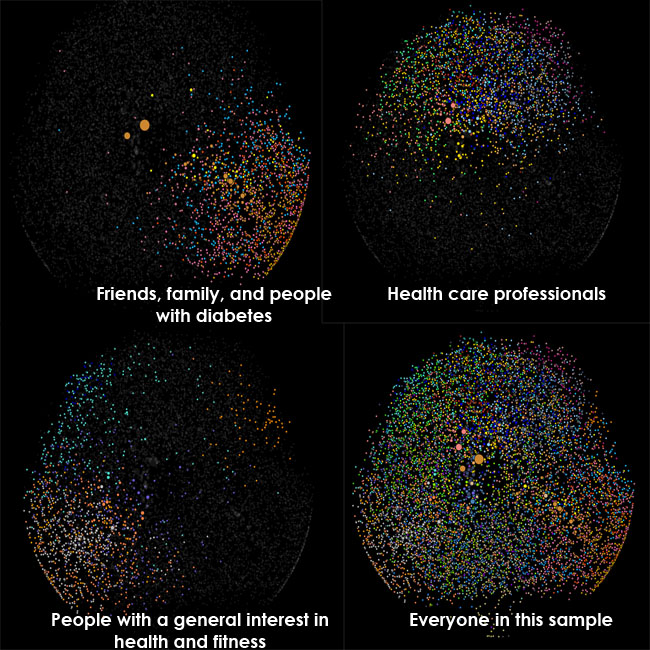 As these maps show, different stakeholders seem to talk mostly among themselves.  "Sometimes it's a little bit unfortunate, the disconnect between those... different folks," said Kelly. "You want the patient communities to become better informed by the research communities, but often they perform more of a social function of patient support—people giving each other moral support and trading life stories."
Over the past three to four years, this social support network has exploded. In 2010, Cherise Shockley founded the Diabetes Community Advocacy Foundation to provide online platforms for the diabetes community to discuss their questions and experiences. Using the hashtag #dsma, which stands for "diabetes social media advocacy," hundreds of people gather on Twitter every Wednesday at 9 pm EST for "tweetchats" about the disease. The group encourages people to raise awareness about diabetes by wearing blue shirts on Fridays (#bluefridays), and Shockley and others also host radio programs in Spanish and English.
"Until I found the diabetes online community (DOC) in late 2009," wrote Kim Vlasnik, a Type I diabetic, on her blog, "I had no idea how much I needed the support it can offer. For me, living with diabetes feels much more bearable when I think of it as a team sport."
The community didn't always exist. When Kerri Sparling, the writer behind Six Until Me, started her blog in May of 2005, she was one of four or five diabetes bloggers on the Internet, she says. "I was tired of Googling 'diabetes' and coming up with little more than a list of complications and frightening stories," she wrote.
Her observation points to the gap in communications left by the professional health-care community—their focus is more clinical than personal. Unfortunately, this isn't just a problem for this particular disease, Morningside Analytics has found. "We've done a lot of work on different social media conversations around different diseases, much more for cancer, and that's fairly typical, that you at least get the split between the people who have it and the people who are making money on it," Kelly said.
Perhaps the online divide between the patient community and medical professionals is also due to a difference in form, then, not just content. People with diabetes share information in a way that seems relatable, not sterile. If researchers and marketers could figure out how to make their communication efforts feel more personal, maybe they could reach a broader audience with information about new studies, technology, and disease management techniques. Studying up on diabetes puns might be a good place to start.