Civic Spice Latte: Starbucks Uses Its Stores as Political Platforms
The chain attempts to bring activism full circle: back to the coffee shop.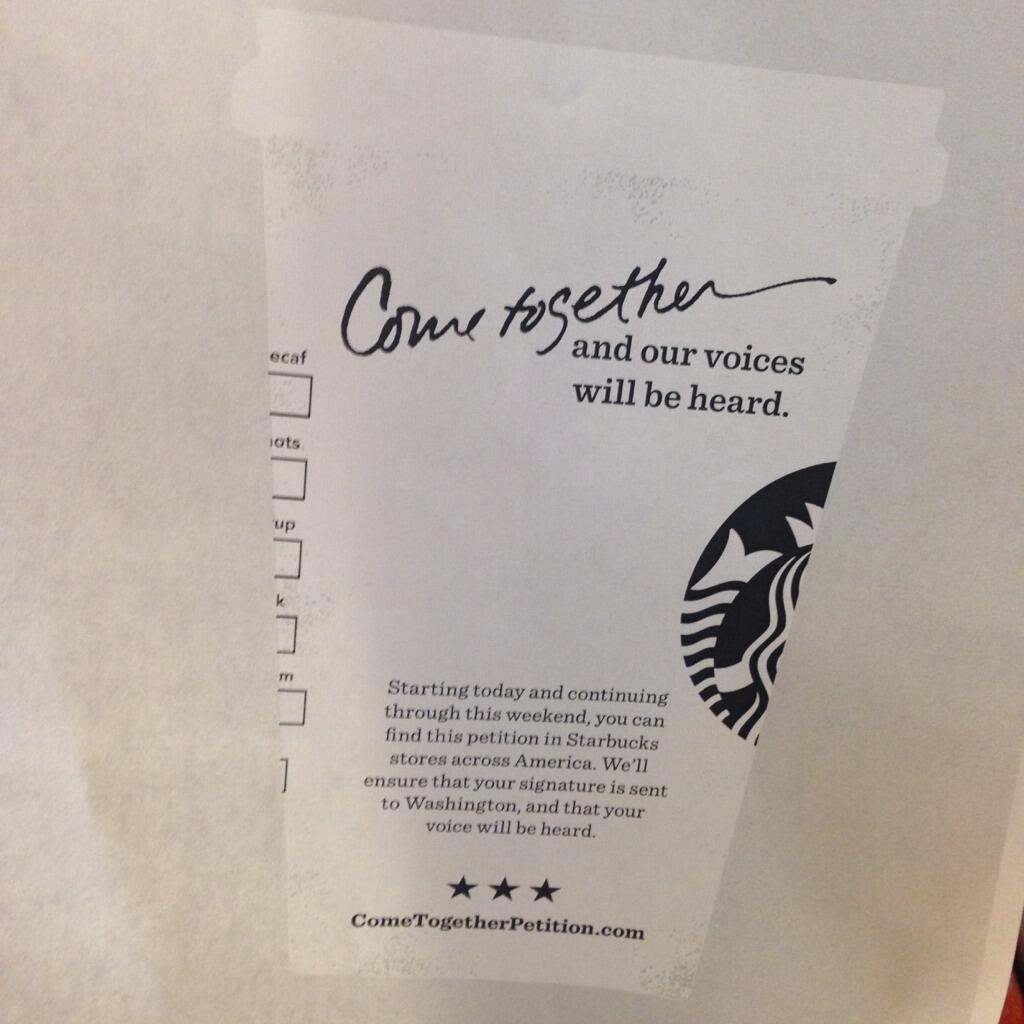 If you happen to find yourself at a Starbucks today—or anytime, really, throughout the weekend—your coffee might come with a shot of politics. You might encounter the petition pictured above. "Come together," it may read, "and our voices will be heard." 
Said petition, if you see it, will continue: 
Starting today and continuing through this weekend, you can find this petition in Starbucks stores across America. We'll ensure that your signature is sent to Washington, and that your voice will be heard.
And it will conclude:
So, yes: Starbucks stores as political messengers. Putting the "nation" in "caffeination."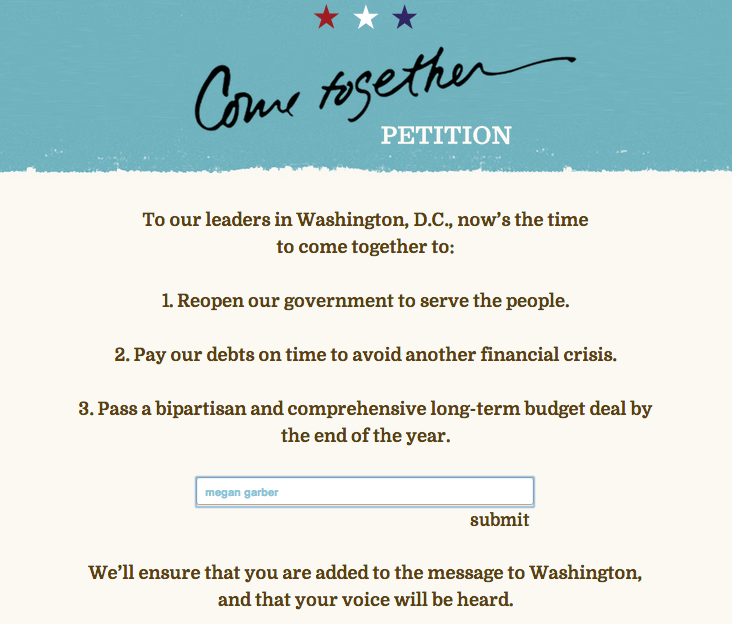 The site also includes social badges. ("
Show your optimism in America's future by calling on our leaders to Come Together for America. Show your support and use this Come Together badge as your profile pic.") It also includes a hashtag (#cometogether). It also includes an email field ("receive email updates on our progress as we bring your voices to Washington") and an option to receive SMS updates regarding the same progress. ("
By joining you are agreeing to receive text messages via automated technology from Starbucks. By providing consent you are not required to purchase any goods or services. Text STOP to end. Message & data rates may apply.")
The site, basically, is yet another manifestation of the kind of digital political activism efforts that have become so familiar in the age of social media. Except that it also includes a downloadable and printable version of the petition. ("
Print this petition  and bring it into any Starbucks by Monday October 14th. We'll ensure that your signatures are sent to Washington and that your voice will be heard.") And except, as well, that its URL was announced, you know, via coffee cup—the bumper sticker, apparently, of the new political landscape.
The purpose of all this effort, ostensibly, is to rally Starbucks customers—who are, indeed, a jitterily hefty portion of the voting public—to the cause of bipartisan cooperation. Which is an aim, of course, that is much less politically innocuous than it may seem (for more on that, read
James Fallows
,
here
and
here
 and
here
). And which is also an aim,
as The Wire's Abby Ohlheiser points out
, that at best will succeed only in pointing out to Congress what Congress already knows.
But let's leave the particular politics aside. Because what's most interesting about the "Come Together" campaign is what it aims to achieve from a systemic and meta-political point of view: It's attempting to politicize previously un-politicized places. The coffee shop. The corner Starbucks. That zone of friends and family and
familiar strangers
, that place of light roasts and light jazz and assorted pleasantries.
This isn't the first time, of course, that Starbucks has put its, er, cup-acious reach to work for political messaging. Last December,
 CEO Howard Shultz asked employees in Washington, D.C. stores to hand-write "Come Together" on cups—the better to encourage bipartisanship. Last month, Shultz penned an open letter asking gun-rights activists to stop bringing guns into Starbucks stores. ("P
ro-gun activists have used our stores as a political stage for media events misleadingly called "Starbucks Appreciation Days" that disingenuously portray Starbucks as a champion of 'open carry.' To be clear: we do not want these events in our stores.") And earlier this week,
the store offered a promotion
—of itself and of, more explicitly, "civility": 
"If you come into Starbucks and buy someone else their favorite beverage, we'll give you a free tall brewed coffee."
This is what
some political theorists
refer to as "sub-politics": politics that play out 
on a level below traditional political institutions
. And Starbucks' efforts suggest not just a recognition that a store can double as a political platform; they also echo, for better or for worse, 
what coffee shops were, hundreds of years ago
: bustling intellectual marketplaces. Places that were about more than coffee and baked goods and anodyne exchanges—places that were, in fact, about debate, political and otherwise. Places that used their ability to bring people together to join them together in conversation.