Are Smartphones the Solution to Urban Loneliness?
Tech enthusiasts argue that the rise of mobile will create more face-to-face relationships.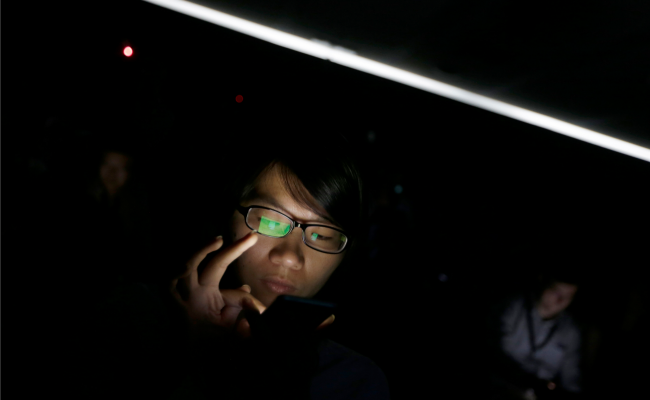 Reuters
"My great project is to make technology more human." This declaration, made by serial entrepreneur and Flickr co-founder Caterina Fake at a CityLab panel discussion on Monday, hints at a big concern for a lot of people: Is Facebook making us lonely? Does mobile technology give people an excuse to isolate themselves, or is it an unprecedented tool for bringing people together?
Unsurprisingly, tech enthusiasts see new apps and mobile devices as a great way of building communities. "Technology can be a very alienating, depersonalizing, dehumanizing experience," said Fake. "There's a great movement away from that. We had this great rash of promiscuous connection, and now we're pulling back. One of the main components of that is location – and it becomes hugely important when mobile is the default."
Specifically, location matters because robust digital networks can help people build better "real life" connections. The more smoothly people can transition back and forth between their communities online and their communities in real life, the argument goes, the less lonely everyone will be.
Daniel Huttenlocher, the Dean of Cornell's new NYC Tech campus, is about as much of a tech enthusiast as one can be: His job is to build a community of engineers and entrepreneurs in the heart of New York City. But he doesn't think technology can replace face-to-face communities – quite the opposite, in fact. "One of the promises of the Internet is that it was going to make location irrelevant, and everybody was going to be able to communicate regardless of where they were," he said. "That led to this promiscuous 'friending' – if there are no constraints on who you're interacting with, the number becomes too big for anyone to work with."
Especially in big cities, Huttenlocher argued, social media can help people connect with specific groups of people and feel less lost among millions of other residents – and millions of other people on the Internet. "One of the things we're seeing is the increasingly urbanization of tech and how we use tech. Location is part of that re-personalizing of technology," he said.
But standing opposite these techno-utopians, a few thoroughly modern, thoroughly sensible people still say that the best way to establish meaningful in-person connections is to disconnect from technology.
"If you want, you can say, I don't want to use social media, I don't want to use smartphones," said Rob Kitchin, a professor of geography at the National University of Ireland, Maynooth. "There are people who have never felt the need. I know people who don't have mobile phones, who try not to use credit cards because they don't want to be tracked and traced in that way. They lead happy lives."
It's not a popular position, though, particularly among the CityLab crowd, which is  focused on how technology can help cities improve operations. When Kitchin spoke of his purely "analog" colleagues, Teresa Carlson, an executive who runs Amazon web services, jumped in with a jab: "Do they live in a cave?" She got what sounded like a relieved laugh from the room.
Kitchin was quick to reply. "You don't have to be buying Amazon services to be alive," he pointed out.
Surprisingly, in a room full of tech enthusiasts, his response won even more approval and applause.