An Amazing New Twitter Account That (Sort of) Mimics Your Tweets
Could this incredible bot be the next big Twitter thing?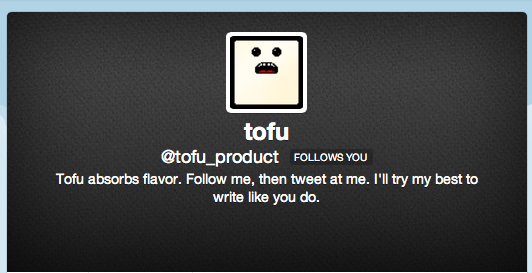 Sometime during September, the Twitter account @tofu_product came online. Its cryptic bio reads: "Tofu absorbs flavor. Follow me, then tweet at me. I'll try my best to write like you do."
And so it does. Follow, then tweet at, the enigmatic @Tofu_Product and it replies with a tweet mimicking the language you use on Twitter. Or, rather, borrowing the language: It seems to work by stringing words from a library of your tweets together into Markov chains. So when I asked it a question, it responded with words I used on Twitter, once:
And when my friend (and Atlantic Entertainment writer) Nolan Feeney sent it a tweet, it responded with a string of words he once used on Twitter:
It's fun to scroll down the feed, and see the mood and capitalization and style of Tofu Product's tweets change. Based off his tweets, musician and developer Joe Toscano seems to have made the bot.
Two things strike me about Tofu Product. First, it is fast. Between my first @-reply greeting to it and its first imitation of me, only six seconds elapsed. Six seconds to trigger the script, to search my feed, to send a tweet. It's rare to see an auto-responding bot this fast, and, simultaneously, that speed makes it clear that @tofu_product is a bot, because no human could be that good.
(The sad inverse of this is that @tofu_product tweets so often that it's sometimes barred from tweeting, and around an hour will pass before it can send a flurry of automated tweets again.)
Second, @Tofu_Product is kinda delightful. Every tweet from it, to you or a friend, triggers a little thrill of recognition. "I remember using that word!," or "He would tweet that!," etc. Tofu avoids the Uncanny Valley, by virtue of its output—they're not sentences, just strings of text. But it's a bot singing your song, or your friend's song, and smiling all the while. In its very bot-iness, it is a bot pleased, productive, and personalized.