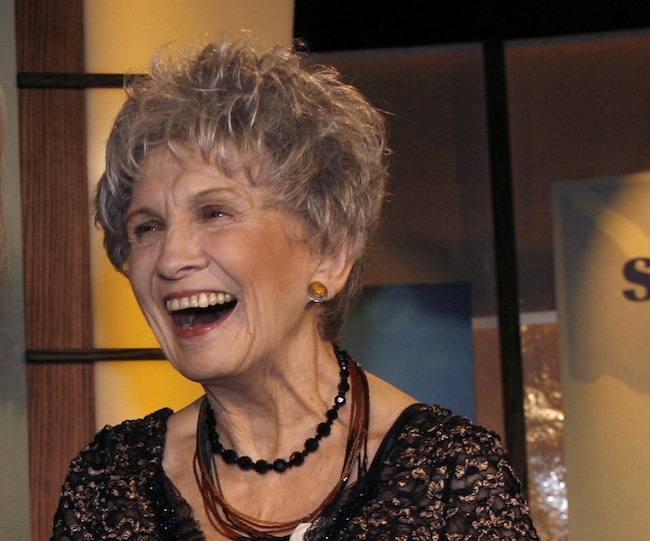 One of the very, very small fringe benefits of winning a Nobel Prize, if the prize itself isn't enough, is that you get an amazing story to tell for the rest of your life. Where were you when you heard ...? people will ask. And you will tell them: At home, sleeping. On vacation. And it was 5 in the morning, and I picked up the phone, and there was this voice that sounded Swedish, and ...
Alice Munro, either through the worst timing or the best, now has a fantastic story to tell. The newest winner of the Nobel Prize in Literature doesn't have to recall the moment of her win. She can replay it for herself, over and over, as many times as she wants. 
Because she wasn't around, apparently, when the Swedish Academy tried to call her to inform her of the news. So the Swedish Academy did what any would-be message-deliverer finally will when the phone goes un-picked-up: It left her a voicemail.
The Swedish Academy has not been able to get a hold of Alice Munro, left a phone message. #NobelPrize #Literature

— Nobelprize_org (@Nobelprize_org) October 10, 2013
Whether this was an accident on Munro's part or a stroke of genius, the result is the same: Alice Munro, renowned writer of short stories, now has a long-lasting piece of Nobel memorabilia. Saved in her voicemail. 
Munro, however, has not dethroned Doris Lessing when it comes to the "where were you?" story. Here's the 2007 winner for Literature, learning of her win:
Update, 11:10am: This is maybe starting to get a little bit awkward? The Nobel twitter feed just sent out this tweet:
@Nobelprize.org is trying to reach #AliceMunro for our traditional phone interview, still voice mail... #NobelPrize http://t.co/Yjg6kYsxIr

— Nobelprize_org (@Nobelprize_org) October 10, 2013
The link included in the tweet? It goes to a recording of the outgoing voicemail message for Alice Munro's phone. 
Update, 12:18pm: All is well!
We reached #AliceMunro, phone interview soon to follow! #NobelPrize in #Literature

— Nobelprize_org (@Nobelprize_org) October 10, 2013
We want to hear what you think about this article. Submit a letter to the editor or write to letters@theatlantic.com.
Megan Garber
is a staff writer at
The Atlantic
, where she covers culture.