What Did the Continents Look Like Millions of Years Ago?
An artist-geologist renders the history of the Earth with maps.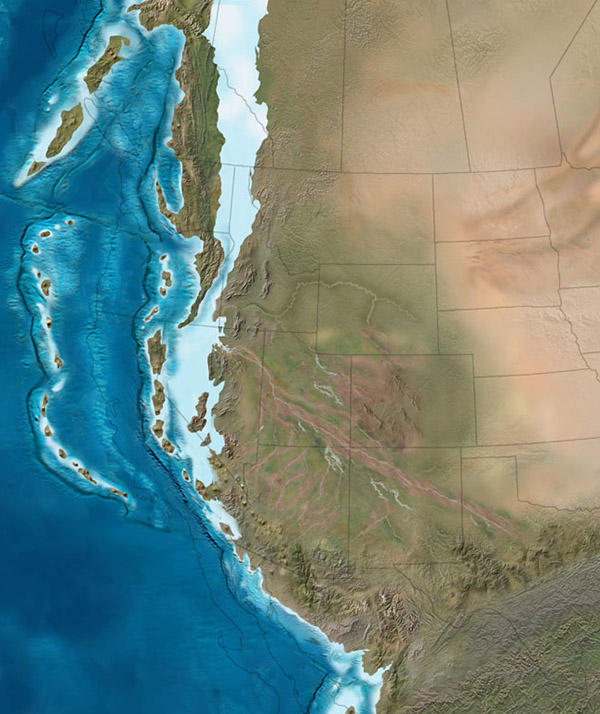 The paleo-tectonic maps of retired geologist Ronald Blakey are mesmerizing and impossible to forget once you've seen them. Catalogued on his website, Colorado Plateau Geosystems, these maps show the world adrift, its landscapes breaking apart and reconnecting again in entirely new forms, where continents are as temporary as the island chains that regularly smash together to create them, on a timescale where even oceans that exist for tens of millions of years can disappear, leaving only the subtlest of geological traces.
With a particular emphasis on North America and the U.S. Southwest—where Blakey still lives, in Flagstaff, Arizona—these visually engaging reconstructions of the Earth's distant past show how dynamic a planet we live on, and imply yet more, unrecognizable changes ahead.
These images come from Ron Blakey's maps of the paleotectonic evolution of North America. The first map shows the land 510 million years ago, progressing from there—reading left to right, top to bottom—through the accretion and dissolution of Pangaea into the most recent Ice Age and, in the final image, North America in its present-day configuration.

Venue met with Blakey in his Flagstaff home to talk about the tectonic processes that make and remake the surface of the Earth, the difficulty in representing these changes with both scientific accuracy and visual panache, and the specific satellite images and software tools he uses to create his unique brand of deep-time cartography.
Like film stills from a 600-million-year-old blockbuster, Blakey's maps take us back to the Precambrian—but there are much older eras still, stretching unmapped into far earlier continents and seas, and there are many more billions of years of continental evolution to come. Blakey talked us through some of the most complex changes in recent geological history, including the opening of the North Atlantic Ocean, and he allowed himself to speculate, albeit briefly, about where Earth's continental crust might yet be headed (including a possible supercontinent in the Antarctic).
Many of Blakey's maps are collected in the book Ancient Landscapes of the Colorado Plateau, written with Wayne Ranney, where Blakey also describes some of the research and methods that went into producing them. Blakey also contributed to the recent, new edition of a textbook by Wolfgang Frisch and Martin Meschede, Plate Tectonics: Continental Drift and Mountain Building, a thorough exploration of landscapes disassembling and colliding over vast spans of time.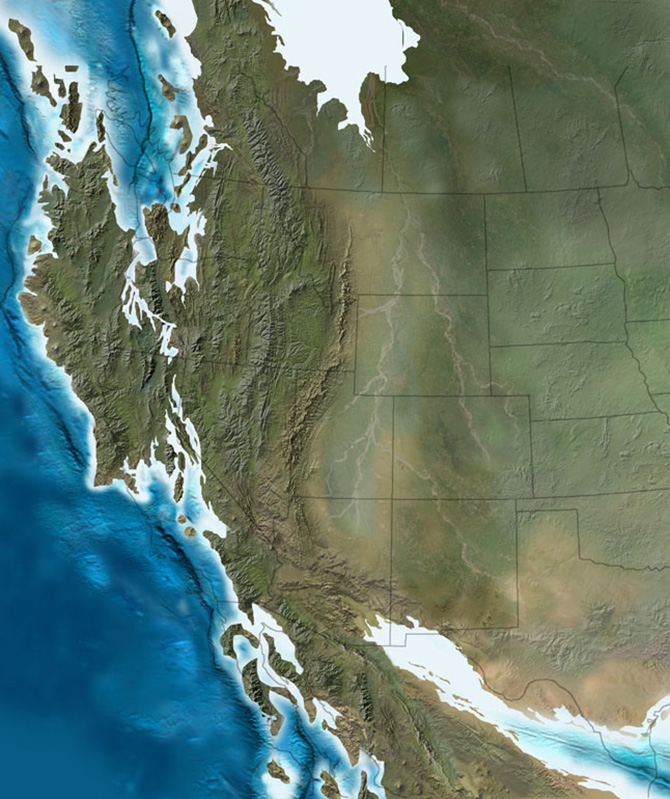 ---

This post was originally published at V-e-n-u-e.com, an
Atlantic
partner site.