Update: Chromosomes Are Shaped Less Like X's, More Like O's
Tic-Tac-Toe, it turns out, is weirdly prescient about cell biology.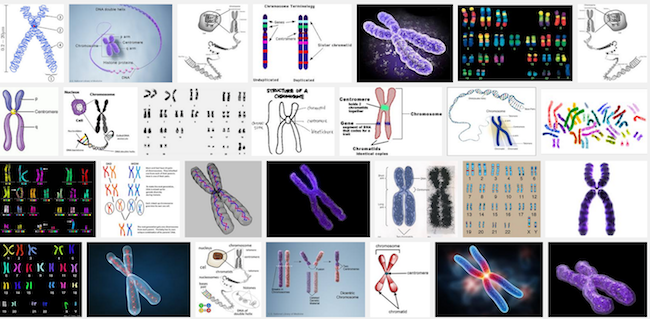 I just did a Google Image search for "chromosome," and the images above are the top returns. A sea of X's: the familiar shape of the chromosome. Some detailed, some vague; some dark, some colored; some in context, some out of it. All of them, however, ex-y. Which is both expected and appropriate, of course: Chromosomes, those tidy tangles of DNA, arrange themselves in X shapes within the cells they both manufacture and populate. Everyone knows that.
Well, we do ... until we don't. A team of researchers at the Babraham Institute in the U.K., working with the University of Cambridge and the Weizmann Institute, has developed a new method for visualizing chromosomes' shape -- one that relies not on microscopes and x-rays, but rather on 3D modeling. The technique involves measuring chromosomes within single cells, thousands of times over, at the molecular level. Combine those measurements, render them as images on powerful computers … and you have the world's first 3D pictures of chromosomes.
And! The images reveal chromosomes that are not at all X-shaped. In fact, they're pretty much the opposite: They're spheroid. Their DNA strands seem to arrange themselves, most of the time, into loose little blobs of genetic material.
So why the X-shape that has become so familiar? Because chromosomes do take that form -- during cell division. As Peter Fraser, one of the project's researchers, explains it, "This microscopic portrait of a chromosome actually shows a structure that occurs only transiently in cells – at a point when they are just about to divide." So it's not that the X-based images of the chromosomes have been wrong; it's that they've been incomplete. Sometimes, it's X's; most often, however, it's O's. In life's grand game of tic-tac-toe, the O's have totally won. 
Fraser and his team have just published the results of their research in the journal Nature. And their work serves not only as (potentially) a basis for a more accurate understanding of DNA, but also as a nice reminder: When it comes to science, the line between "known" and "unknown" can be thin. As thin, sometimes, as a tangle of DNA that goes from X-shaped to ex-shaped in the space of a single new technology.