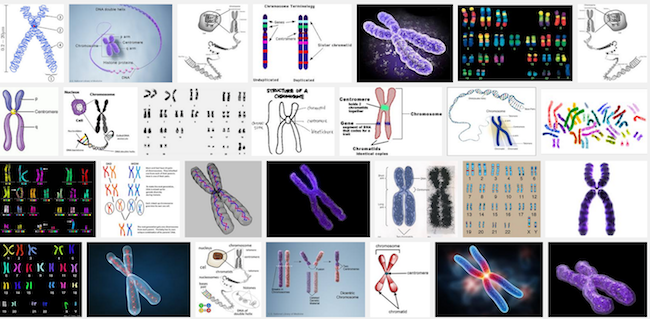 I just did a Google Image search for "chromosome," and the images above are the top returns. A sea of X's: the familiar shape of the chromosome. Some detailed, some vague; some dark, some colored; some in context, some out of it. All of them, however, ex-y. Which is both expected and appropriate, of course: Chromosomes, those tidy tangles of DNA, arrange themselves in X shapes within the cells they both manufacture and populate. Everyone knows that.
Well, we do ... until we don't. A team of researchers at the Babraham Institute in the U.K., working with the University of Cambridge and the Weizmann Institute, has developed a new method for visualizing chromosomes' shape -- one that relies not on microscopes and x-rays, but rather on 3D modeling. The technique involves measuring chromosomes within single cells, thousands of times over, at the molecular level. Combine those measurements, render them as images on powerful computers … and you have the world's first 3D pictures of chromosomes.
And! The images reveal chromosomes that are not at all X-shaped. In fact, they're pretty much the opposite: They're spheroid. Their DNA strands seem to arrange themselves, most of the time, into loose little blobs of genetic material.