Mark Zuckerberg: Neither Republican, Democrat, Nor Cool
What we learned from the Facebook CEO on his first visit to Washington in three years.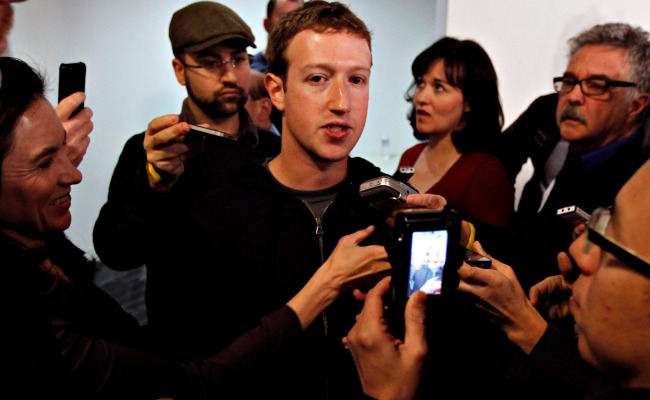 Robert Galbraith/Reuters
Mark Zuckerberg thinks of Facebook as a utility for its 1.1 billion worldwide users -- the electric company of the 21st century. "I want to produce something that's a fundamental service for the world," he said on Wednesday.
In a wide-ranging conversation with Atlantic editor in chief James Bennet at the Newseum in Washington, D.C., the Facebook CEO talked about immigration, the National Security Agency, and how uncool he actually is. Highlights:
"The purpose of this trip is largely for immigration and not for Facebook," he said. During his trip, he is meeting with lawmakers in the House and Senate to lobby for immigration reform. Although prospects for passing legislation in the House have dimmed, Zuckerberg remains, as always, hopeful. "You don't try to build something crazy if you're not optimistic about the world."
The CEO acknowledged that Facebook users are concerned about the company sharing data with the government, but Zuckerberg says those fears may be overplayed. "The sum of those requests [we accommodated] in the last half year was... on the order of 9,000," he said. "That, I think, is very useful -- it's a lot closer to 1000 than it is 100 million." He says that Facebook makes an effort to protect its users. "We look at every request... and we push back on ones that are overbroad or just not legal."
When Bennet asked whether Facebook will, like Myspace, lose its cool factor, Zuckerberg chuckled. "People assume that we're trying to be cool. That's never been my goal -- I'm like the least cool person there is," he said. Instead, he wants the company to be something that people rely on as part of their everyday lives -- much like the electric company.
One thing that makes Zuckerberg's new lobbying organization, FWD.us, unusual is that it supports politicians in both parties. When asked where he falls on the political spectrum, he demurred. "It's hard to affiliate as being a Democrat or Republican," he said. "I'm pro-knowledge economy."