Earlier today, AT&T posted this image across its social media platforms: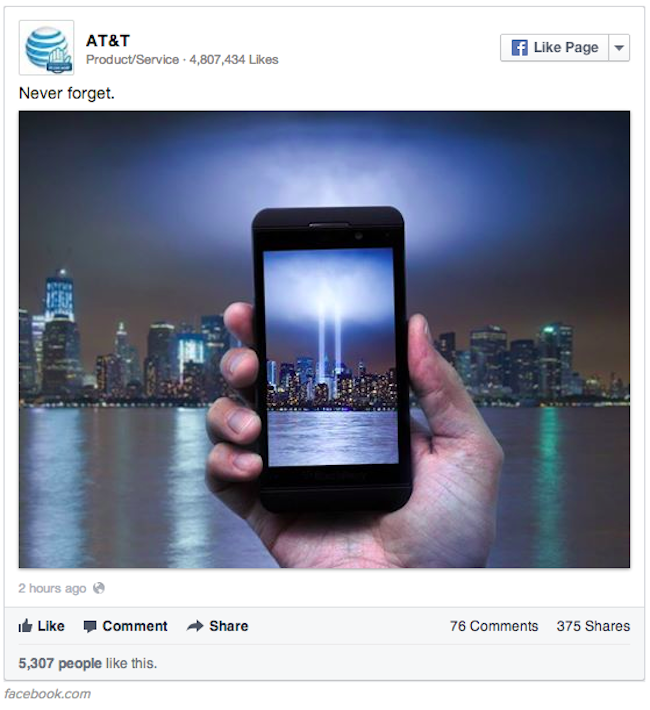 AT&T Facebook screenshot via Buzzfeed
Yep: the lights of the 9/11 memorial, as seen through the screen of a smartphone. (Put another way: the lights of the 9/11 memorial, being blocked by the screen of a smartphone.) With the smartphone in question, ostensibly, connected to a wireless network like AT&T's. Buzzfeed sums up the whole thing nicely: The image is, it says, "without a doubt the tackiest 9/11 memorial on the Internet."
Though I'd suspect you could, if you looked, find a tackier one -- and though AT&T's effort was much more tasteful than, say, this -- point taken. The Internet may have enabled a new, more interactive, and in some ways more fluid relationship between product-seller and product-consumer than could ever have existed before; it may have opened up more platforms for brands to relate to their customers one-on-one, and to, in the process, express some of their common humanity. None of that means, however, that people want brands to have a place in their rituals of public mourning. And it certainly doesn't mean that people want their remembrance to come with a side of product placement. 
There are ways, to be sure, for brands to engage with a 9/11 and its anniversary. The smart, ones, however, find  ways to do that that purposely avoid involving the products they sell. (See: Macy's, NASCAR, even Chick-fil-A.) AT&T, on the other hand, has released unto the world an especially unfortunate strain of product placement: the advermemorial -- or, if you will, the advermorial. The particular kind of advertisement that aims to take a national tragedy ... and brand it.
We apologize to anyone who felt our post was in poor taste. The image was solely meant to pay respect to those affected by the 9/11 tragedy.

— AT&T (@ATT) September 11, 2013
We want to hear what you think about this article. Submit a letter to the editor or write to letters@theatlantic.com.
Megan Garber
is a staff writer at
The Atlantic
, where she covers culture.