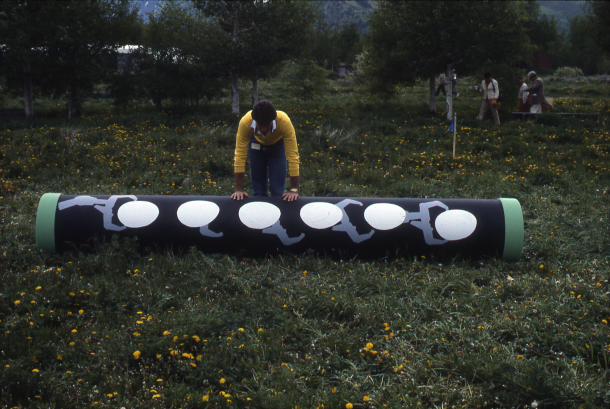 The year was 1983. A group of tech geeks were attending a conference in Aspen: the International Design Conference. They wanted to commemorate the occasion; they wanted to commemorate the year. So they did what any group of preemptively nostalgic nerds would do: They created a time capsule. Specifically, they created a collection of mementos -- artifacts that represented the moment they were living -- and put them in a large tube. They named the resulting archive, officially and rather awesomely, the Aspen Time Tube. 
So if your goal is to curate a collection of culturally representative mementos, and if your further goal is to make those mementos representative of 1983 ... what would you include? A Rubik's cube, for one thing. And a Moody Blues recording. And name tags from the conference. Oh, and also: a mouse used for a presentation given by conference attendee Steve Jobs. A mouse used specifically with the early Lisa computer -- and used to give a presentation that some say foreshadowed wireless networking and the iPad.
For that reason, the detritus-of-1983-filled tube quickly became known, its official name notwithstanding, as the "Steve Jobs Time Capsule." The group that had created it buried the tube. Their plan was to unearth their time capsule in a year that seemed appropriately epic: 2000.