'Apple Has Quietly Become a Leading Camera Company'
Smartphone's aren't just computers masquerading as telephones; they're also, increasingly, cameras masquerading as computers.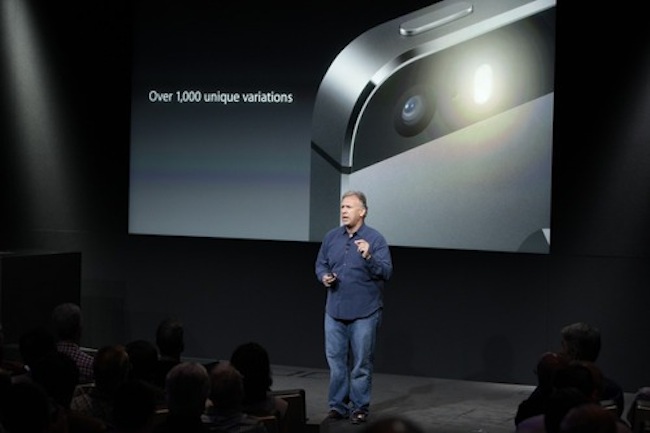 As Becca noted earlier today, we've long passed the point at which new iPhone hardware can fairly be called -- in the phrase Steve Jobs so enjoyed -- "revolutionary."
But one thing that did represent some major innovation as Apple announced its new iPhone and iOS lineup this afternoon had nothing to do with the "phone" aspect of the iPhone, and everything to do with the ... eye. The camera! The camera included in the just-officially-announced iPhone 5S may not be revolutionary, but it does mark a true advance over what came before.
According to Wired's liveblog of the phone's release event, the camera features a new lens (one designed by Apple) with an f/2.2 aperture and a sensor that's 15 percent larger than previous models. It'll have a relatively meager 8-megapixel sensor, but each pixel will be bigger than previous models' -- which will, Apple's Phil Schiller explained today, let in more light. The camera software -- which will be optimized for iOS 7 -- will do an automatic series of adjustments to things like an image's white balance, exposure, tone map, and autofocus. The camera will also feature what Apple is calling a "true tone" dual LED flash, featuring one cool (blue) LED and one warm (amber) LED, allowing the flash to better match the color balance of the light in the room. That makes for, Wired notes, "over 1,000 unique flash variations for your photos." Which is, as Schiller put it, "a world's first for any camera."
The 5S camera will also, automatically, take multiple photos of a single view and then pick the sharpest one for its user.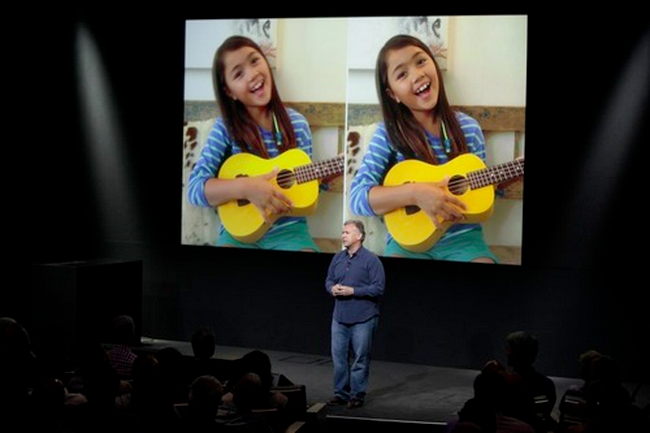 And it will also feature another new tool: auto image stabilization. "With a single shutter press," Wired writes, "it takes multiple photos, checks for the sharpest, and combines elements for the best photo." And also burst mode. And also, in video, a slo-mo mode.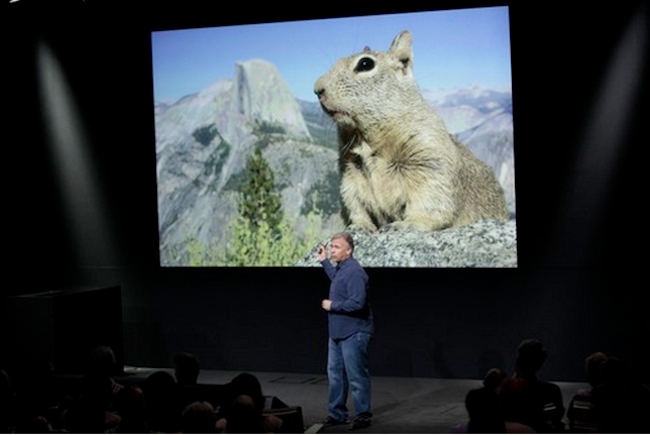 For landscapes, as in the iPhone 5, the exposure can adjust as you pan across a scene.
Which is to say, on the one hand, that the iPhone's new camera seems pretty slick. But it's also to say that the slickness is part of a larger strategy: For a market that finds so many people using their phones for photography, Apple has focused, as it were, on the camera. Apple, today, spent a lot of time discussing the photographic capabilities of the 5S. Which is also to say, as Daring Fireball's John Gruber put it:
Apple has quietly become a leading camera company. Huge amount of demo time for 5S camera.

— John Gruber (@gruber) September 10, 2013
As strategy, that makes sense: a longstanding dig on the iPhone -- or, alternatively, a long-standing boon to Android-based models -- has been that brands like Samsung and Nokia have bested Cupertino when it's come to cameras. Nokia's Lumia 1020, for example, features a 41-megapixel camera. From the cultural perspective, though, it's another reminder of how quaintly outmoded the term "phone" has become when it comes to these devices. Smartphones aren't just computers that are masquerading as telephones; they're also, increasingly, cameras that are masquerading as computers.