An App to Help Women Avoid Street Harassment
The challenges of collecting data on where people do and don't feel safe.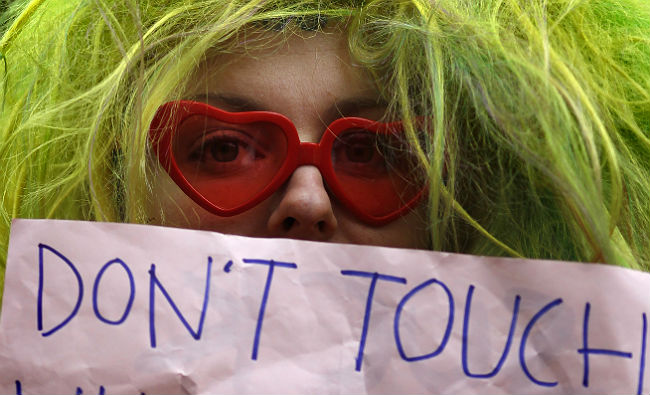 People who regularly experience street harassment learn to navigate public spaces nimbly, but with anxiety. They might reconfigure their commutes or slip headphones in their ears to look like they can't hear catcalls or whistles.
A new street harassment reporting app aims to help users log unwanted encounters by monitoring incidents in real time and submitting them to their council member. At the same time, though, it raises questions about the definition of "street harassment" and who determines how it should be punished, if at all.
Emily May co-founded anti-street harassment nonprofit Hollaback! in 2005 to document the experiences of women and members of the LGBT community. May was often told that a certain amount of unwanted contact was "the price" that women, gay, and gender non-conforming people paid for being in society, and she wanted to highlight the everyday irritations they were expected to shrug off.
The testimonies on Hollaback!'s messageboard are probably familiar to many. "A man followed me on the bike and then circled around me, making comments, telling me to smile and come with him," wrote one woman, describing a trip home from a Sacramento Amtrak station. A submission from a disabled, pre-op transgender man says, "I'm partially handicapped by [rheumatoid arthritis] and have had caregivers help. One [male-to-female trans friend] I used to live with got so fed up with the attitudes in the neighborhood she quit." The writer's new aide has had to fend off blow-job requests from the landlord, he wrote. These types of encounters are routine for 84 percent of women who have considered changing their behavior, such as choosing new routes or avoiding being alone in public, to avoid being harassed.
Street harassment is problematic because it deviates from unspoken rules about the way strangers should interact. As Cynthia Grant Bowman wrote in her 1993 Harvard Law Review article "Street Harassment and the Informal Ghettoization of Women," normal public interactions, especially those in big cities, are conducted under a guise of "civil inattention." Strangers typically "perform an avoidance ritual" of making brief eye contact, disengaging, and continuing on their way. There are obviously some nuances--a wordless nod or smile, a quick "hello," or "excuse me," a brief exchange of banter--but, in general, most people tacitly agree to give each other space and expect the same in return. Instead, street harassment becomes a massive game of I'm Not Touching You. Sure, not all street harassment involves aggressive physical contact, but even the nicest of compliments becomes bothersome if it's delivered with disregard for someone else's personal space or an expectation that the recipient be grateful.
That's where Hollaback! comes in. The original app, released in 2010, was basically a mobile extension of the website. However, the newest version released last month for use in New York City functions as a street-harassment reporting tool. The app was granted $20,000 in 2011 with support from New York City council member Julissa Ferreras, the current Chair of the Committee on Women's Issues, and is free. More recently, former mayoral candidate and city council Speaker Christine Quinn threw her support behind the latest iteration. (I called Quinn's office for comment and was directed to this press release.) The home screen lets access "Resources" or "Know Your Rights," and it also includes a map with balloons that reveal street harassment clusters. In addition to posting incidents, users can plot their location manually or via GPS, noting the area and type of location (borough, school, business); enter demographic information (race, gender); and attach a picture of an incident they witnessed or experienced. If users opt in to the feature, those reports then go to their district's database and Councilstat. (Council members who receive complaints in their district will have access, not the mayor.)
But even though the NYPD will not receive the reports, the feature makes some anti-street-harassment advocates nervous. Some are wary of entrusting demographic data with New York City government, while others believe the movement's history of grassroots action will be displaced by government intervention.
May insists that Hollaback!'s mission aligns with public desire for "community-based responses that are about education and mobilization [rather than] more police responses." In the past, Hollaback! has organized safety audits to assess the conditions of particular areas where pedestrians seem to be vulnerable to harassment. Council member Ferreras coordinated with the group to conduct the first one in Queens last year. The patrol resulted in the replacement of street light bulbs and working payphones, which May says "make a space feel safer, and therefore be safer." Ferreras's communications director, Megan Montalvo, said the district hadn't received any formal complaints, "but as a council woman and someone who grew up in the district, street harassment was something [Ferreras] noticed." May sees the app as an extension of these types of grassroots efforts.
The executive director says collecting data enables local organizations to make tailored adjustments, rather than sweeping, citywide ones ordained by law. "If we learn that this is happening to primarily women of color," she explained, "[we can] make sure there are educational workshops and campaigns designed with them in mind." She also envisions greater support for anti-street harassment ad campaigns like the one Hollaback!'s Philadelphia branch launched on SEPTA trains, which will run through October. May believes advancement for these initiatives requires some government involvement.
"When I started doing advocacy work with Hollaback!, council members received reports anecdotally and wanted to do something, but there was nobody educating them in a substantive way," May says. "They were turning toward increased criminalization. Council members approached us with a number of laws they came up with on their own terms that we don't endorse," such as fewer chances and more jail time, tactics May thinks are a quick fix.
Currently, no specific law penalizes "street harassment," but violations may be prosecuted in other ways. Acts like flashing and public masturbation may be deemed disorderly conduct, depending on the state, and are typically regarded as misdemeanors. In New York City, where the Hollaback! app is being piloted, those offenses could result in a $250 fine, a jail sentence of up to 15 days, or a conditional discharge for first-time offenders. Street harassment on public transit is addressed in similar ways. Still, verbal harassment--probably the most common kind of street harassment--usually goes unpunished. That's why Cornell professor Cynthia Grant Bowman advocates for some kind of legal deterrent that acknowledges that targets of street harassment are negatively impacted by the experience.
"There are kinds of things that are drip, drip, drip persistent--not cutting or injuring you--but persistently denigrating behavior that can feel bad and be scary," she said in a phone interview. "The idea is that the body politic takes [street harassment] seriously and wants to protect women from it; that it understands it has harmful consequences and isn't a joking matter. If it was physical, you would have a cause of action. This would be a misdemeanor punishable by a fine; it wouldn't be a huge, criminal offense that would follow you around for the rest of your life." Still, what may seem like a small financial burden for one person may be totally unaffordable for another, and Bowman has acknowledged that these cases may be handled differently depending on the race of the parties involved.
In her 1993 article, Bowman illustrated the insufficiencies of conflating street harassment with assault by citing one case that was "decided upon openly racist grounds" and another that "measured the defendant's conduct [in] a transparently racist fashion." In the first, a black man was convicted in North Carolina for harassing a white girl on the street since "[a] negro man, using this foul indecent language towards a young white girl, as a matter of common knowledge, would create apprehension and fear." In the second, assault charges against a white man driving an "expensive foreign car" who harassed three young, black women were dropped. The man alleged that he believed the women were prostitutes, and the court concluded that he could not be blamed for making that assumption. After all, as scholar and activist bell hooks (whom Bowman references) has noted, if black women are always seen as sexually available, it is impossible to make an unwanted sexual overture. The socioeconomic class and race of street harassment targets and perpetrators are undeniable factors in the way these encounters are judged.
Mariame Kaba, the director of Project NIA, a Chicago-based advocacy group that presents alternative ways of handling crime and violence said, "I support what Hollaback! does because it involves some form of accountability work. I'm all for using data to inform men and women about their community. But [a potential] partnership with police is not a community accountability model, and is problematic." Kaba fears that increased reliance on government funding might lead to eventual police interference. Some critics of the Hollaback! app believe partnering with the city is misguided.
When the update was first announced last year, the New York Daily News criticized the use of "public money to advance the [private] cause," and said that city residents should just call 911. On Twitter, Colorlines news editor Aura Bogado wrote, "The candidate who supported stop and frisk (and racial profiling) for a decade launches your app... and that's a good thing?" And for Professor Bowman, accumulating demographic data without clearly stating how it will be used places a greater burden on pedestrians. "I looked at that map and thought, 'Is this supposed to give me information about the corners to avoid?' Because that would actually be a perverse affect: It would interfere with my liberty by getting me to censor where I go." She reiterated that some legal sanction would make the biggest difference.
Miriame Kaba has a different take. "I think our frame is wrong," she said. "The point is to make harassment culturally unacceptable, and not treat other people this way. That's a lot of hard work that may involve community accountability circles, or restorative justice, but it should be any number of things before a law enforcement approach."
Kaba told me about her experience with YWAT (the Young Women's Action Team), an anti-street harassment group founded in 2003 that focused on the Rogers Park area of Chicago. That year, a group of teenagers who were frustrated with harassment in their neighborhood produced a report on the state of street harassment in their community. Eventually, YWAT would go on to conduct community audits, established a training program, published research, and traveled around the country to speak to other young people and adults about street harassment and violence against girls and young women.
Other scholars have also debated the conflicts that arise (alienation of the core audience and key organization members) when replacing a more collectivist structure with bureaucracy that includes state funding and staff.
It isn't inevitable that Hollaback!'s partnership with the New York city council will lead to the unfair policing of certain people, classes, or communities. Still, I asked May how she felt about the pall cast over the alliance, given Speaker Quinn's association with New York's controversial stop-and-frisk policy. "Well," she replied. "It sucks."
"As an organization, we see stop-and-frisk as a form of harassment, and we don't agree with the assertions of any politician that would support it," May continued. "I wish I could separate the politics out of it, but I realize that's almost impossible to do. When you work with any politician you get their baggage along with them. But I think Speaker Quinn is a person, and an individual, and someone who cares about street harassment. [Her participation] is a sign that city government would be willing to collect real-time reports on street harassment, and acknowledge that this is going to take more of an investment."
The next big question is how large that investment will be.