You Can Now Post GIFs on Facebook … Kinda
It may be a hack, but it's a GLORIOUS one.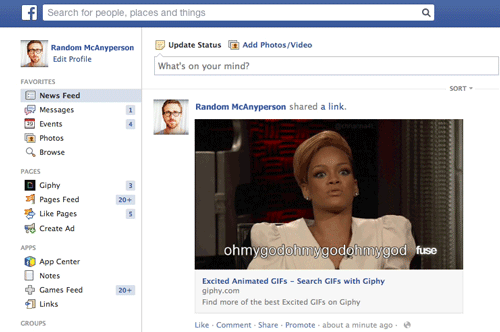 Listen: Facebook is no one's favorite social network. It's excellent at nothing in particular, mediocre at mostly everything, and maybe surveilled by the government.
But yesterday, you could not post GIFs to Facebook.
And, today, you can.
Now, GIF only animate on Facebook when you link to a GIF's page on Giphy.com. So you can't just use GIFs from anywhere: You have to use the version on Giphy's site. This makes me — and The Atlantic's social media editor, Chris Heller — wonder if this just a hack, perpetrated by Giphy, which will last no longer than a few days.
But even so. In the power vested in me by the 156 year history of the magazine, I declare: This is awesome.

UPDATE, 11:30am: Yeah, it's definitely a hack. It's August 29, 2013, and bonafide GIFs still will not display on Facebook. This Facebook Developer interface reveals that Giphy is pointing the "GIF" to a file which looks like the GIF, and which displays as a video to a Facebook user, but which is, in fact, a Flash facsimile of the GIF. Still: Cool!