Why Is Google Using a 'That's What She Said' Joke to Sell the Moto X?
We all know sex sells. The question is whether tired jokes about it do, too.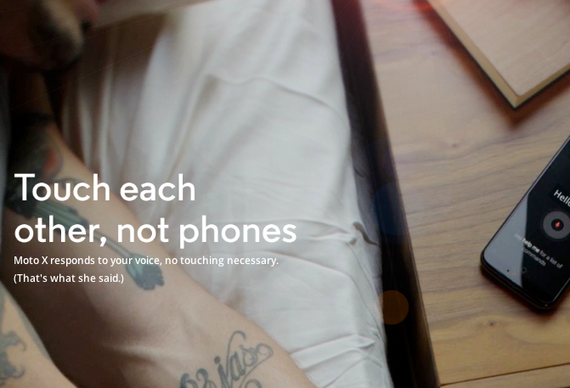 Today, at an event in New York City, Google and Motorola introduced the Moto X: the phone Gizmodo is calling "the first cross-carrier hero phone out of Motorola since it was taken under Google's wing." The phone, which de-emphasizes manual control in favor of intuitive user responsiveness, is getting great reviews so far.
Less great, however, is the ad campaign designed to market the phone. There are approximately 100 strange things about that campaign (including its odd employment of a yo-yo; its strategic angling of a carpenter's square; and its apparent targeting toward both six-year-old girls and characters from Portlandia) ... but one of the strangest is the ad copy that runs on the image above. "Touch each other, not phones," the ad says. Below that, in smaller font:
Moto X responds to your voice, no touching necessary. (That's what she said.)
That's in addition, as Gizmodo points out, to the another joke. "Is bigger really better? You decide," the ad says, bannering awkwardly above a pair of hot-pink Chuck Taylors and a packet of Tiny Size Pop Rocks. You decide, little girl, you decide!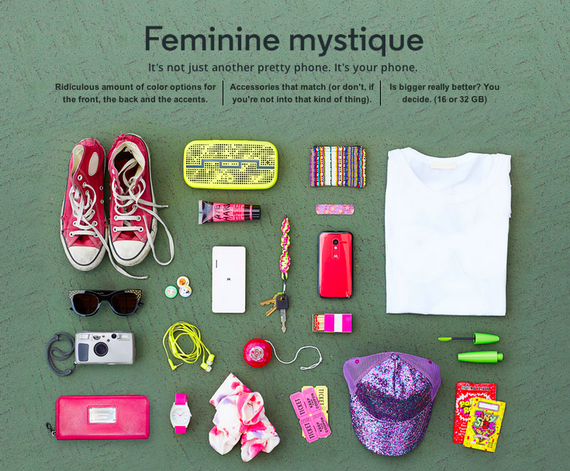 It's completely understandable that Motorola would want to experiment with the identity aspects of gadgets: if you don't give customers cachet (in the form of, say, a fruit logo on your phone), then give them customization. By all means. What's less understandable, though, is where its cheeky little jokes fit into the mix. Sex may sell; the question is whether cliched and/or out-of-context and/or eye-roll-inducing sex sells just as readily. Does this little pun, for example, really make you want to buy a Moto X?
Via @mat
Update: As Matthew Panzarino notes, Motorola has updated the ad. The "that's what she said" line has been deleted; the "is bigger really better?" line has been replaced with "Play Goldilocks and choose the right size for you."