When Will Solar Get Cheap Enough for Everyone to Use?
An animated look at how far solar has come since it emerged in the 1950s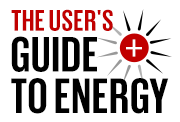 Alexis Madrigal explains how energy really works in America
Read more
Solar is not like other energy sources. Photovoltaic cells are a transformative technology, Alexis Madrigal, The Atlantic's senior technology editor, argues in the short video above. The faster the price of solar energy falls, the more viable it becomes as a source of clean power -- and the sooner we'll see it on roofs across America. Animated by Lindsey Testolin, this clip is part of a six-part video series in The User's Guide to Energy special report. For a more in-depth look at this topic, check out Kyle Thetford's "Charting the Fall of Solar Prices."