What's in Crude Oil—And How Do We Use It?
An animated guide to how crude oil turns into useful fuel for cars, jets, and more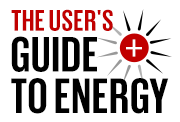 Alexis Madrigal explains how energy really works in America
Read more
The petroleum we pump out of the ground turns into a range of useful things: fuel for all forms of transportation, a key ingredient in plastics, and more. Alexis Madrigal, The Atlantic's senior technology editor, takes a look at the chemistry of crude oil in the two-minute video above, explaining the process of distilling one barrel, gallon by gallon. Animated by Lindsey Testolin, this clip is part of a six-part video series in The User's Guide to Energy special report. If this short overview leaves you wanting to know more, check out Kyle Thetford's more detailed look at the process.