What Coal Mining Looks Like These Days
The world depends on these men and their machines, at least until cleaner sources of energy gain more adherents.
A crew of men gather at a mine in McDowell County, West Virginia. They have a quick meeting, say a prayer, and head down into the mountain, into the dark, where their mining machine waits to crush rock. It's controlled via an industrial interface that looks like a battle-hardened large controller for a 1980s Nintendo.
After it's ground out of the earth, the flammable rock on which the world's power system depends gets conveyed up and out, where it's sold, and then burned for electricity. Somewhere.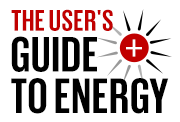 Alexis Madrigal explains how energy really works in America
Read more
This is the rare peek that we get into the life of coal miners in the documentary Hollow. The snippet we see above has no narration. We follow the workers down, silently.
This is the reality that underpins about 45 percent of our electrical grid. It's hard: physically, psychologically. It's not typing on a MacBook Air.
And yet, burning coal is still the cheapest way to produce electricity, if you don't factor in environmental externalities. For that reason, coal is tough to beat, especially in the developing world, where the costs of not having any kind of electricity seem higher than the costs of having dirty electricity. Energy analyst Gregor MacDonald calls coal "the ignored juggernaut," and he points out that global coal consumption is up 50 percent over the last decade, the same timeframe in which green power came to the fore in the Germany, the US, and several other wealthy countries.
And those billions of tons of coal get pulled out machine by machine, person by person in mines a lot like this one.