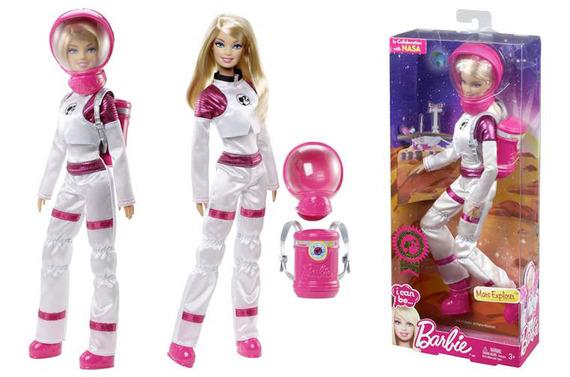 This week, you may have heard, marks the one-year anniversary of the Curiosity rover's landing on Mars. To celebrate, NASA is doing what any powerful government agency would do: It's teaming up with a toy company to create a commemorative doll. 
The "Mars Explorer Barbie" -- part of the "I Can Be" line of the dolls -- comes complete not simply with a sassy pink-and-white spacesuit, but also with a helmet (pink) and a "space pack" accessory (also pink). The doll's packaging features a glittery Martian landscape with the Curiosity rover (also pink) in the foreground and the Earth in the distance. (The Earth is one of the few items included that is not pink.)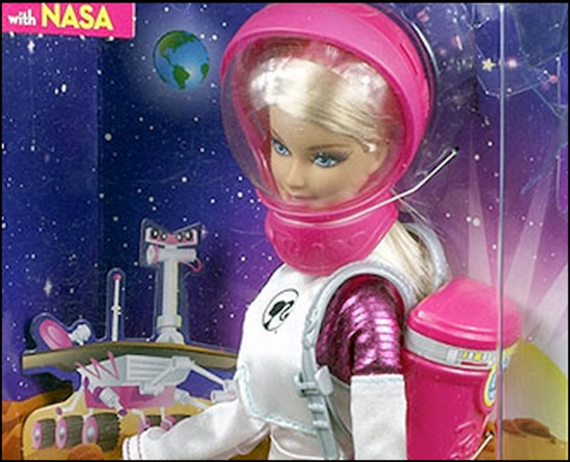 Mars Explorer Barbie is remarkable for several reasons. One of them is that Mars Explorer Barbie's spaceboots, which protect feet that are permanently elevated to accommodate heels, are approximately half the length of a human-ratioed boot. Another is that Mars Explorer Barbie's un-gloved hands seem to be blissfully impervious to both the chilly Martian weather (average temperature: -80 degrees Fahrenheit) and the high radiation levels of the thin Martian atmosphere.
But Mars Explorer Barbie, her packaging assures us, will persevere through whatever adversity she encounters, be it radiation poisoning or helmet-hair. Because "Explorer" is, of course, her middle name. "Adding to her resume of more than 130 careers," Mattel puts it, "Mars Explorer Barbie doll inspires girls to be adventurous and to always reach for the stars!"