The User's Guide to Energy
The energy system is a huge $6 trillion enterprise, but the basics are simple and human.
The energy system is vast. How big? It's a $6 trillion dollar market. Trillion! Such a big industry consumes vast amounts of natural resources and processes them through a dizzying array of infrastructure. And all that stuff working together keeps us zipping across cities and nations, while pulling power from the grid to power anything from a lightbulb to a computer.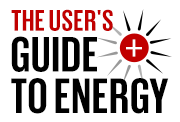 Alexis Madrigal explains how energy really works in America
Read more
But despite all the complexity, there are some basics that make the rest of it all easier to understand. So, in our new video series, we tried to break down some of the fundamentals of the American energy system. We're going to break down the numbers on how Americans use energy and dive to the microscopic level to see the components of crude oil.
It's these interactions of scale that make energy such a fascinating topic. The way that you use the lights in your house is a global force. Because the culture of electricity in this country is one of the key problems in climate change.
But your personal habits don't just contribute to global warming in whatever tiny way, they also call on a world-spanning network of fuels and processes, people and machines.
So, we asked six basic questions about energy, and answered them in animated explainers voiced by me and (beautifully) illustrated by Lindsey Testolin. This is our first deep collaboration with The Atlantic's new, expanded video team, and we couldn't be happier about how it came out. Stay tuned for the videos and several other posts in this special report.