The U.S. Makes Way, Way More Requests for Users' Facebook Data Than Any Other Country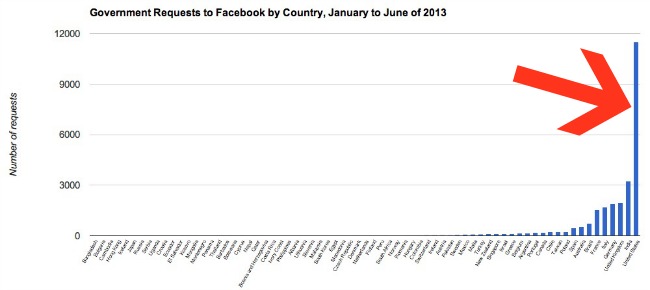 Facebook released its first ever transparency report today, taking a cue from Google in an effort to provide more information about government requests for its users data.
The report shows that the United States makes dramatically more requests than any other country, with somewhere between 11,000 and 12,000 such requests made in the first six months of 2013. India was the next highest, with 3,245 total requests, followed by a handful of European countries.
(For the other 73 countries appearing in the report, Facebook gave a specific number. For the United States alone, Facebook provided a range. In the charts throughout this piece, I have used the point at the middle of the range, thus 11,500 in the chart above.)
The requests can cover anything from "basic subscriber information" to "IP address logs or actual account content."
Facebook additionally provided data on the number of different accounts the requests targeted. In that category too, the U.S. led the pack, with some 20,000 to 21,000 accounts requested. In general, this graph looks the same as the one above, with India second and a handful of European countries rounding out the top slots.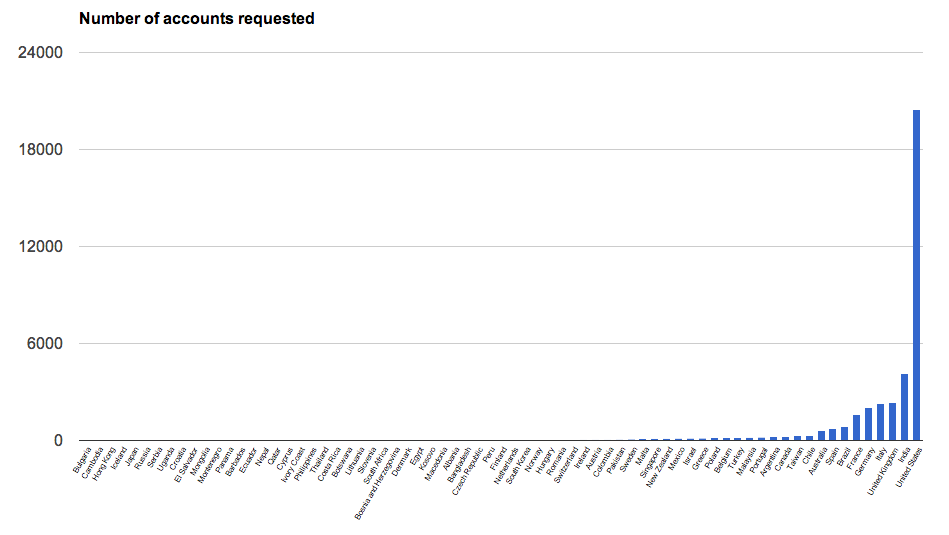 The third dataset Facebook released revealed the percent of the requests from a given country which resulted in "some data" being "produced." I don't think too much can be read into this graph, both since we do not know the specifics of the cases in which Facebook refused compliance, and because countries that have made few requests end up scattered across the distribution. That said, it is worth noting that though Facebook's compliance for U.S. requests is at the higher end, it is low enough to indicate both that U.S. government officials have been ambitious in their requests and that the company has been discriminating in its response.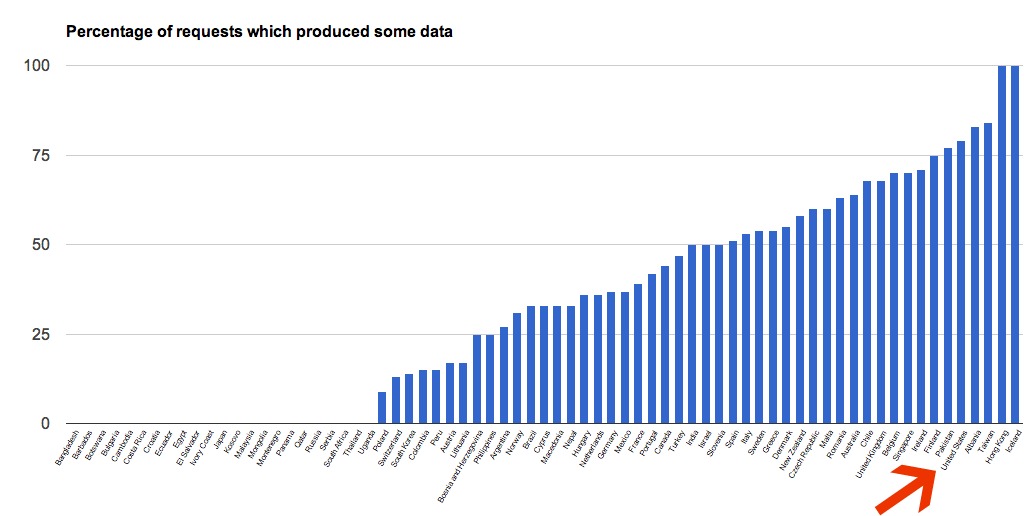 It is good to see Facebook following Google's lead on releasing this sort of broad-brushstroke data to the public about the companies' relationships with governments around the world. But unfortunately, as recent reports from The Guardian and other newspapers have demonstrated again and again, our picture of those relationships remains hazy -- at best.