The Time Some Guy Accidentally Joined Richard Nixon's Phone Call
Oh, how far we've come since the 1970s.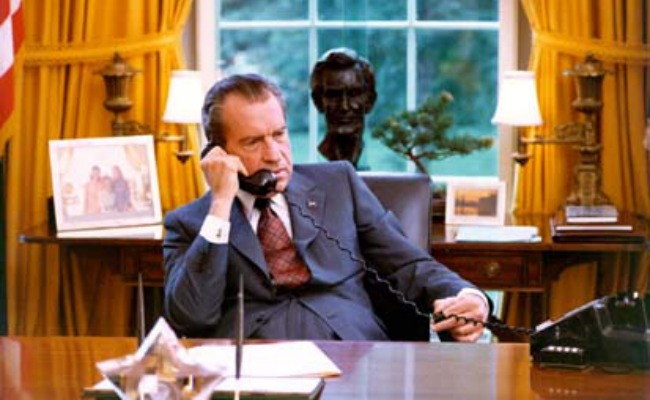 Courtesy of the Nixon Presidential Library and Museum
Newly released tapes from the archives of the Nixon Presidential Library and Museum reveal many gems of conversation from the Nixon administration, but one seems particularly ironic in today's world of NSA phone surveillance: On May 14, 1973, some guy accidentally got on a call with Richard Nixon. The President is chatting with Len Garment, the head of his legal team, about campaign finance reform, when suddenly another voice appears on the line.
INTERLOPER: "May I help you? Hallo?"
GARMENT: "Uhhh, I'm on this phone here. Please get off."
Apparently, he never knew he was on the line with the president of the United States.
You can listen to the full conversation between Nixon, Garment, and their mysterious interloper here. More tidbits from the Nixon administration to come later today with the screening of Our Nixon here at The Atlantic's headquarters, otherwise known as the Watergate.