The Greatest British Work of Literature, Blocked at the Greatest British Library
Apparently, algorithms and aesthetics argue about "Hamlet."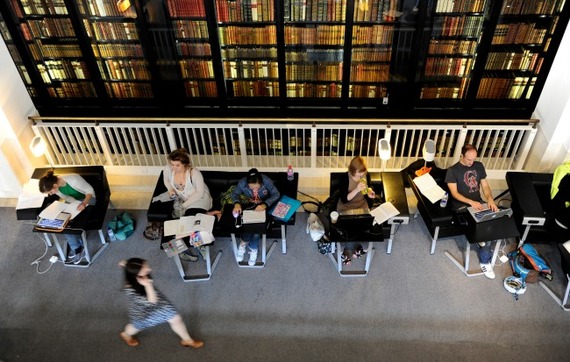 Two Mondays ago, British author Mark Forsyth sat in the British Library, researching for his new book, and needed to check a quote in Hamlet. He knew that MIT had, on its website, the Bard's complete works, so he googled "Hamlet MIT," clicked on the first result, and, in his words...
A message came up from the British Library telling me that access to site was blocked due to "violent content".

Now, Hamlet is a violent play. I see that. When the curtain comes down here's a lot of bodies on the boards. But...

But...

I tried it again. It told me that my attempts to access this violent content were being logged.
A Monday of tragicomic Shakespearean proportions ensues. He tells the story -- of unsympathetic librarians, of unhelpful IT specialists -- in his blog post about the matter. "I asked them if they were surprised that Hamlet was now banned in the British Library," he writes of the library staff. "They shrugged." They were also, he says, unable to immediately unblock it for him, because they had outsourced the part of their filtering system responsible for the limitation.
But as much as his blog post is an annoyed anecdote of institutional ignorance, he wants to make the following point clear: "The evident silliness of filtering systems [at research institutions], particularly one that blocks mit.edu but not Facebook." (His emphasis!) In fact, the Library's wi-fi is so bad, so often filtered, that he thinks it has "forced researchers to choose, reluctantly, between books and the Internet."
Such is knowledge searching in the age of algorithms. Hamlet, in its totality, has 17 mentions of "kill" and 39 mentions of "death." It mentions "violence" four times and "poison" 13. Whether this assemblage of violent terms triggered the filter, or whether other verboten words did it -- like, perhaps, arouse, which makes its second and third appearance in the English literary corpus in the play --- it's hard to say. But Forsyth's parable reveals the dangers of a research institution using a filtering system, especially one they can't immediately adjust.
Though they can adjust it with time: The British Library has now promised on Twitter that it has adjusted its abhorred filters to unblock perhaps the most famous work of British literature, Hamlet.