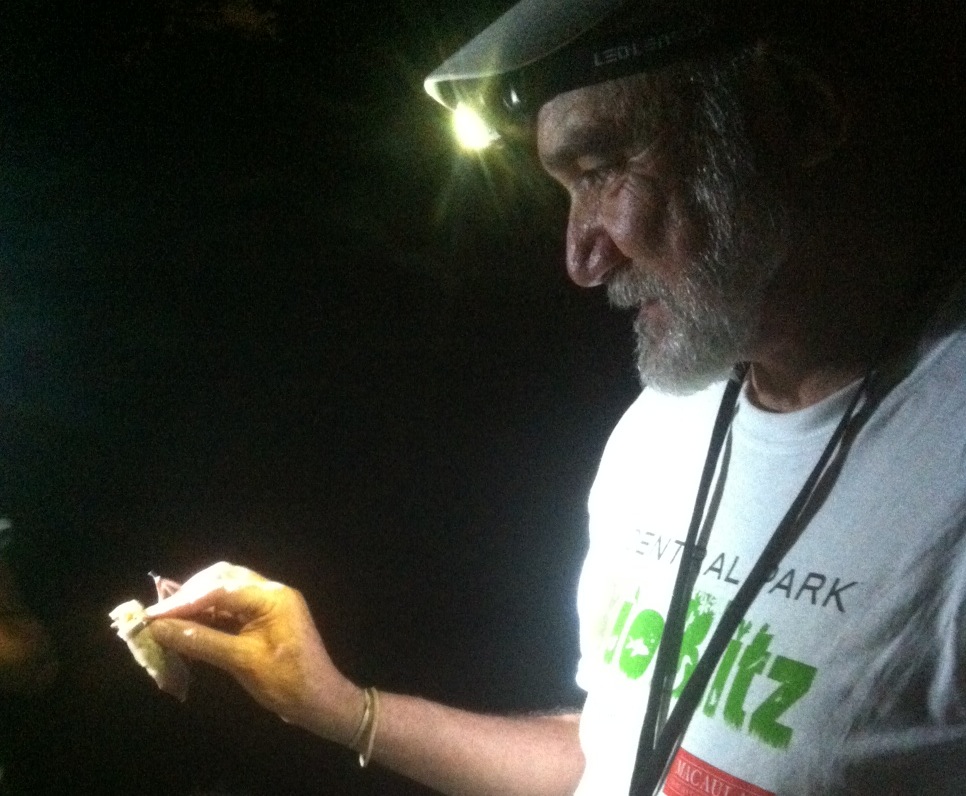 Batman finds his bat. (Megan Garber)
At the base of a craggy hill in the middle of Central Park, under one of those rocky overpasses you're not supposed to pass over after dark, a waterfall settles into a shallow stream. The stream smells. Like pond scum, mostly, but also, a little bit, like urine. And damp stone. And the various salty-sweet scents of city that have been liberated from concrete via the steam of summer. It's late in the day, and the heat hangs, and a siren wails in the distance, and we are somewhere near, best I can tell, 99th Street. So it takes me by surprise when Rodrigo Medellín plops onto a rock, rolls up his pant legs, and plunges into the water.
He's looking for bats. Actually, technically, we are all looking for bats. Medellín, a professor at the National Autonomous University of Mexico, is a bat biologist. A celebrated one, in fact. And he's leading a group of us -- researchers, park volunteers, students, curious hangers-on -- as part of the Central Park BioBlitz, a 24-hour-long effort to take a census of Central Park's wildlife. Some 500 sophomores from the Macaulay Honors College are participating in the census -- a project, co-sponsored by the Central Park Conservancy, that is not only meant to provide data about the Park's biodiversity (some 800 species, at last count), but also, as College dean Mary Pearl puts it, "to celebrate science as a way of knowing."