Luvit.Me: Bitly Lets You Tell People How You Really Feel About Links You Post
A new service lets you link to stories through domains like loath.es or iwantth.is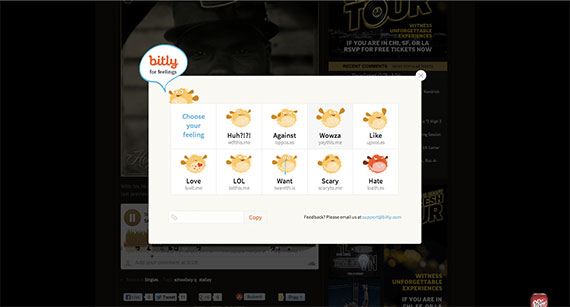 Bitly, the link-shortening service, has something small and good for you to play with. They call it Bitly for Feelings, and it adds a clever new capability to social media.
As you can see in the image above, when you'd like to post a link to a webpage, you pick a feeling and Bitly shortens the link on the basis of that choice: Choose Love and the service generates the link http://luvit.me/16votyU. Choose Hate and it spits out http://loath.es/16votyU. Both links go to the same page, but they give the links different spins.
As with other bitly products, it works through a browser bookmarklet. It's simple and easy. And as tech writer Tim Carmody astutely noted, "Branding/commentary in the link for you + sentiment analysis for them."
Right now web analytics companies have to guess why you posted a link to something. Did you love it or hate it? With Bitly for Feelings, the guesswork is gone. You're telling the machine: I loved this. Of course, it could be a fake-love or fake-hate link and machines are bad at irony, but the data's probably better than nothing.