Jeff Bezos' (Growing) Media Empire
The Amazon CEO now owns not only The Washington Post, but also El Tiempo Latino. And The Express. And The Gazette.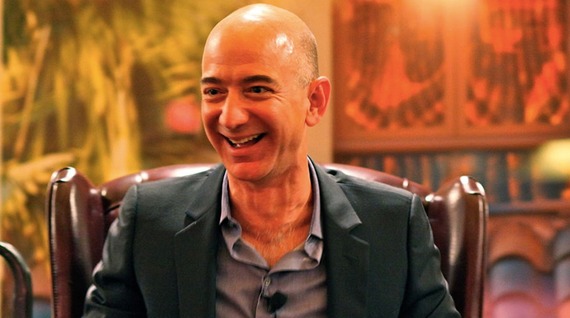 Jeff Bezos is not simply the founder and CEO of Amazon. He is also, via the delightfully named Bezos Expeditions, an investor. Bezos has personally invested in, among many firms, Uber and Airbnb and Makerbot and Teachstreet. He has invested in Glassybaby, a company, according to the Wall Street Journal, "that blows handmade glass cups to hold votive candles." He is also the founder of the aerospace company Blue Origin. He is also the investor -- of $42 million at last count -- in a 200-foot-tall, grandfather-style clock that is currently being built in the mountains near his home in Texas. "The 10,000 Year Clock," if all goes according to plan, will play a distinct sound every year for the next 10 millennia.
Less famously, Bezos is also the head of a media empire -- an empire that, this afternoon, just got a lot bigger. Bezos, he announced, has bought The Washington Post and a good number of other newspapers for $250 million (that's about 25 percent of Facebook's purchase price of Instagram, for those keeping track at home, and about 23 percent of Yahoo's purchase price for Tumblr).
Here, then, is the Bezos Media Empire as it stands on August 5, 2013. It includes Bezos' new acquisitions as well as prior investments. If there's anything I've left off the list, let me know: I'm mgarber [at] theatlantic.com.
• The Washington Post
• The Express newspaper
• The Gazette newspapers
• Southern Maryland newspapers
• Fairfax County Times
• El Tiempo Latino
• Greater Washington Publishing
• Fashion Washington
• Capital Business
• The Capitol Deal
• Service Alley
• Comprint Military Publications
• Apartment Showcase
• New Homes Guide
• New Condominium Guide
• The Guide to Retirement Living Sourcebook
• Comprint Printing
• Business Insider (Bezos Expeditions led a round of financing for the outlet, resulting in $5 million in new capital, in April 2013)
• Cha-Cha, the occasionally controversial "real-time answer service" (Bezos Expeditions led a $6 million round for the firm in 2007)
• The Robinson Terminal, a newsprint warehouse facility in Alexandria, Virginia