Huh, Vogue Publishes 12-Page Google Glass Spread in September Issue
It's not a Segway for your face, it's a leather turtleneck for your head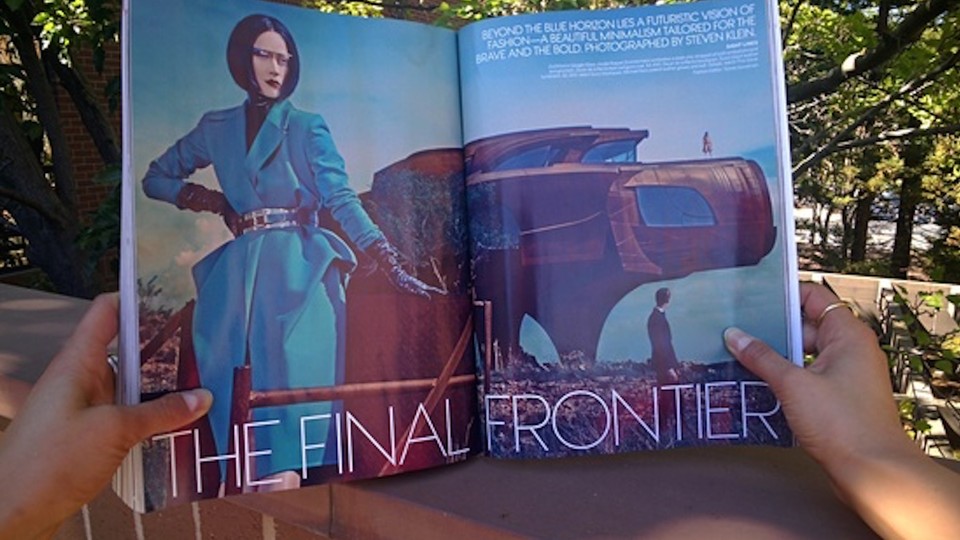 For the uninitiated: Vogue's September issue is a big deal in the fashion world. Packed with fall fashion, it tends to be the most ad-rich magazine in the publishing world. It's such a thing that there's a feature-length movie about making it called, The September Issue.
If you open up the 2013 edition of the magazine, you'll find a 12-page spread in which Google Glass figures prominently. The package is called The Final Frontier (because... nerds) and it promises that "beyond the blue horizon lies a futuristic vision of fashion--a beautiful minimalism tailored for the brave and bold."
On the opening page, we see model Raquel Zimmerman in an Oscar De La Renta jacket, a Gucci black leather turtleneck, and Google Glass.
Obviously, this is Google's way of saying that Glass is not a "Segway for your face," but a $2,300 leather turtleneck for your head.
It marks the second fashion-related PR coup for Glass, the first being the Diane von Furstenberg fashion show video from last September (below).
Also, I checked with Google and the spread was not an advertisement.
Bonus: Vogue on the walkman from 1980. (I'm pretty sure she's listening to this.)