How Much Energy Does the U.S. Use?
An animated guide to the different energy sources that power our nation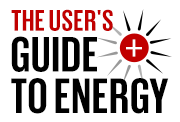 Alexis Madrigal explains how energy really works in America
Read more
We all know the U.S. consumes a massive amount of energy but it's hard to wrap your head around the numbers. How much do we rely on oil? Do renewable resources make up a significant portion of our energy use? In the two-minute video above, Alexis Madrigal, The Atlantic's senior technology editor, walks through the key energy sources we depend on, from coal to wind and beyond. The facts and figures come to life with animation by Lindsey Testolin, a San Francisco-based artist.
This episode kicks off a six-part video series -- a component of The User's Guide to Energy special report. Don't miss Madrigal's introduction to the project and see Kyle Thetford's "The U.S. Energy Picture" for a more in-depth look at how the landscape is changing.