How Do We Use Energy at Home?
A look at how consumer habits have changed over the years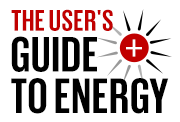 Alexis Madrigal explains how energy really works in America
Read more
From gadgets to kitchen appliances to heating, AC, and beyond, this two-minute video reveals what it takes to power an American home. Alexis Madrigal, The Atlantic's senior technology editor, explains how shifting demographics have influenced energy use since 1980. Featuring animation by Lindsey Testolin, this clip is part of a six-part video series in The User's Guide to Energy special report.
If this short overview leaves you wanting more, be sure to check out Kyle Thetford's "A Very Short History of How Americans Use Energy at Home" for a more in-depth look at this topic.